Rated one of the top dive spots in the world; with some of the best corals and marine life, we were so excited to dive Komodo. Having recently dived in the Gili islands and Nusa Lembongan, we were already sold on the amazing quality of Indonesian diving slightly but slightly worried that we were not advanced enough to dive in the Komodo currents!
However, we did our really did our research and managed to fit our trip into a slack tide at half moon which meant we didn't have much current to "play" with – but this suited us just fine! Looking back, this was a crazy level of planning but after a bad experience diving in strong currents on Nusa Lembongan, this helped calm my nerves. In hindsight, our dive instructor was so brilliant I think we would've been fine. We had made sure we chose a reputable dive school (Scuba Junkie) and were relieved to see tripadvisor reviews stating that the instructors led small groups and people had done their PADI certification there.
Scuba Junkie
Scuba Junkie was the only dive school situated outside Labuan Bajo which meant we were about an hour closer to all the dives sites and stayed in the beautiful Scuba Junkie accommodation.
We had a bit of a holiday nightmare getting our transfer to Scuba Junkie after mixing up our dates. We were awoken from a poolside slumber at our previous hotel as they needed our room and we hadn't even packed! We had rushed over to the Scuba Junkie office in Labuan Bajo but had missed the boat! Thank goodness one of the dive masters was doing some shopping in town and still around so able to transport us (just a couple of hours later than arranged!)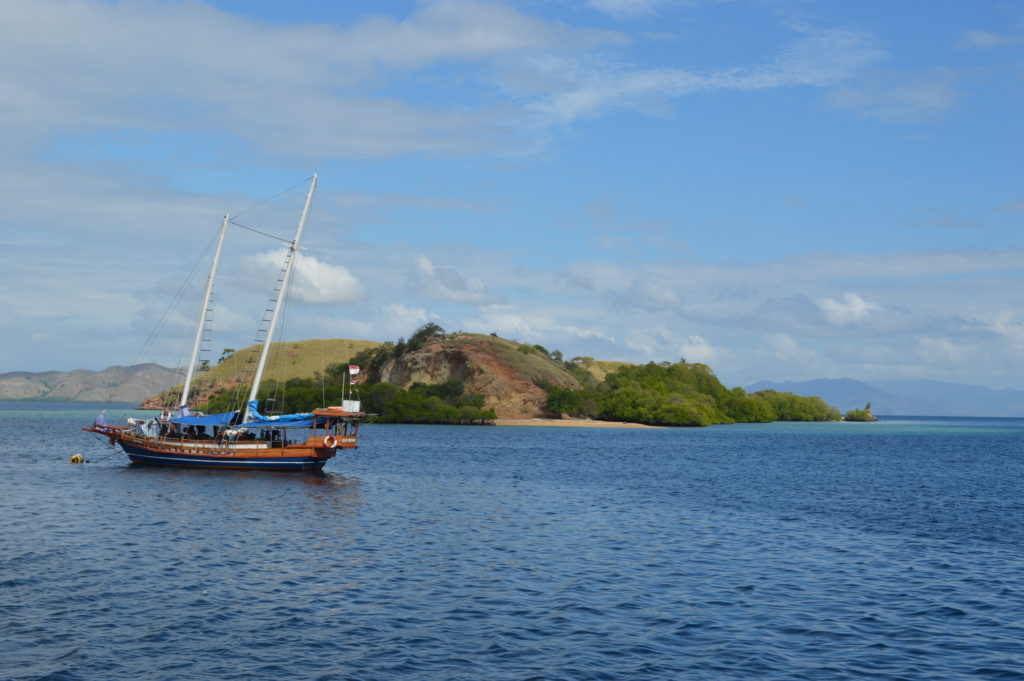 The Labuan Bajo town has quite a large port area due to most the dive schools leaving from there but the street itself feels quite dusty and dirty. The harbour area absolutely stinks! There are some good restaurants though (big Italian focus?!)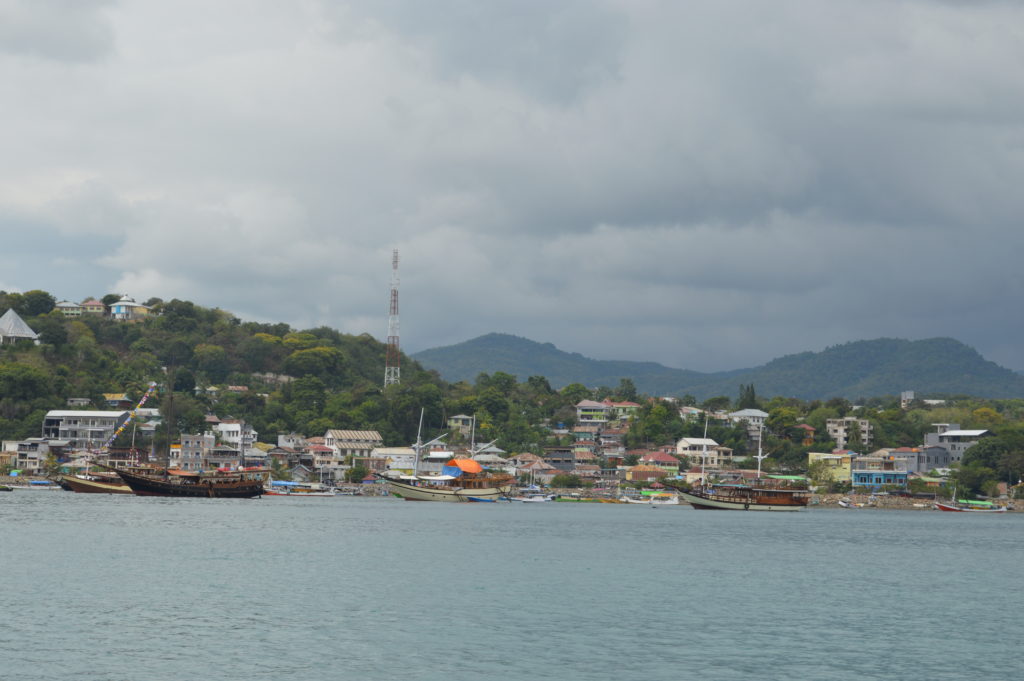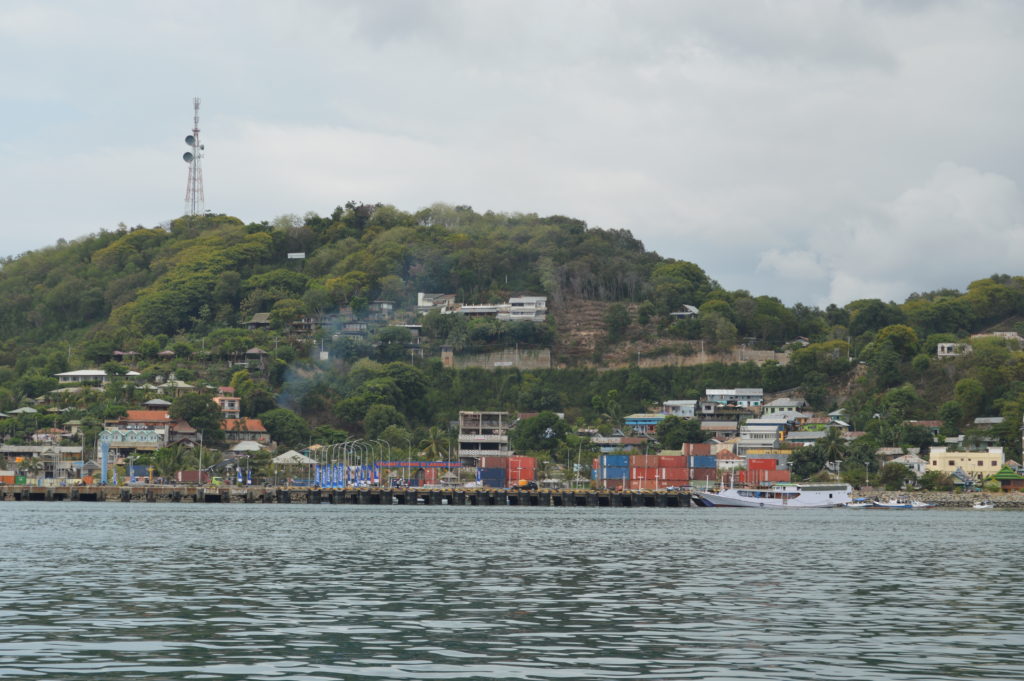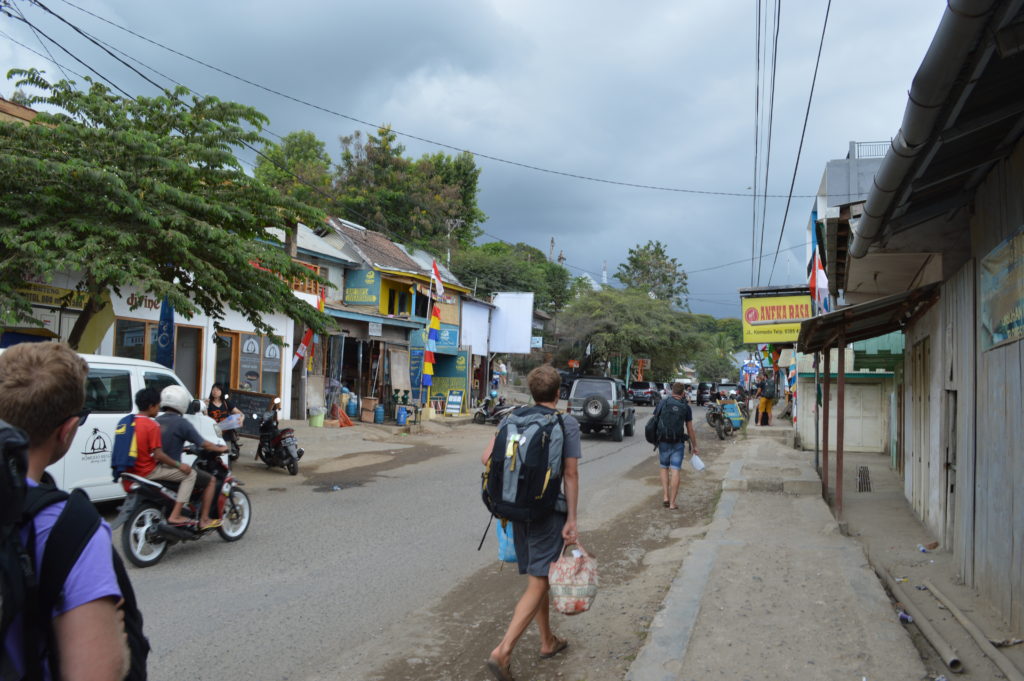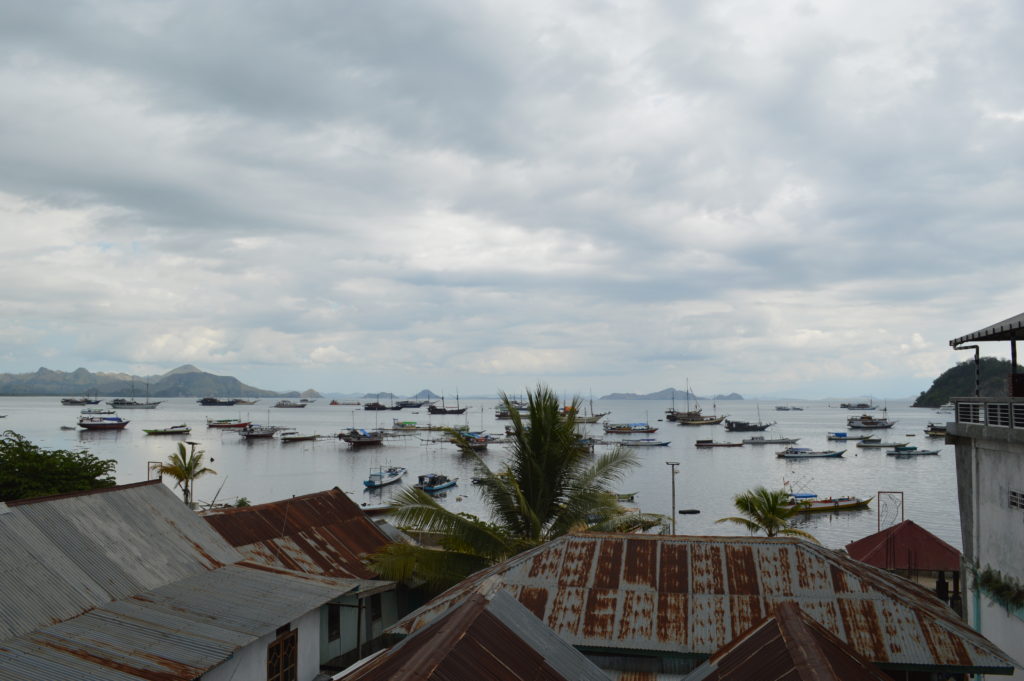 Scuba Junkie accommodation was perfect, we stayed in a bungalow (fan only which was pretty hot – but no air-con option here). Most people stay in the bales which probably would've been a bit cooler. The remote location meant all supplies, including water was shipped in each day… there was only 1 time where the toilet couldn't be flushed!
The equipment was great and the dive masters were really friendly and knew their stuff! We really appreciated that all our equipment was all ready for us on the dive boat each morning – no carrying heavy tanks here! Every dive, Rob and I were just in a group of 2 which was amazing because we felt so safe with Max, our dive master. The food was also amazing and very plentiful – including a breakfast of pancakes, banana, fried egg and bread served on the dive boat each day. We would highly recommend Scuba Junkie for diving in Komodo.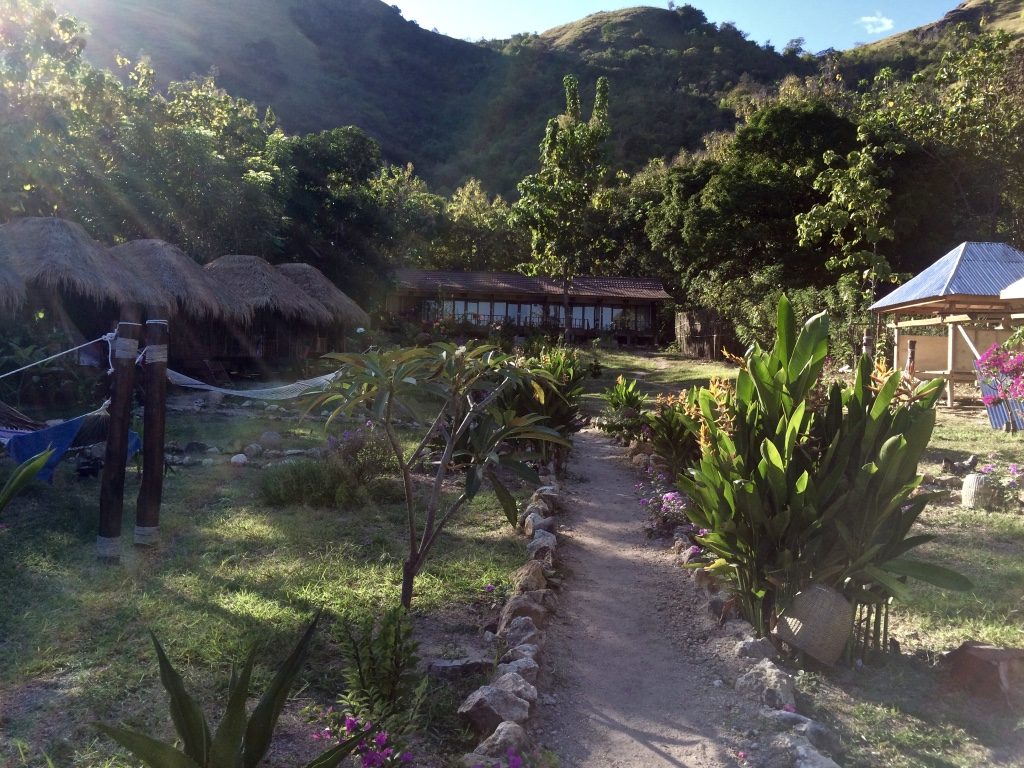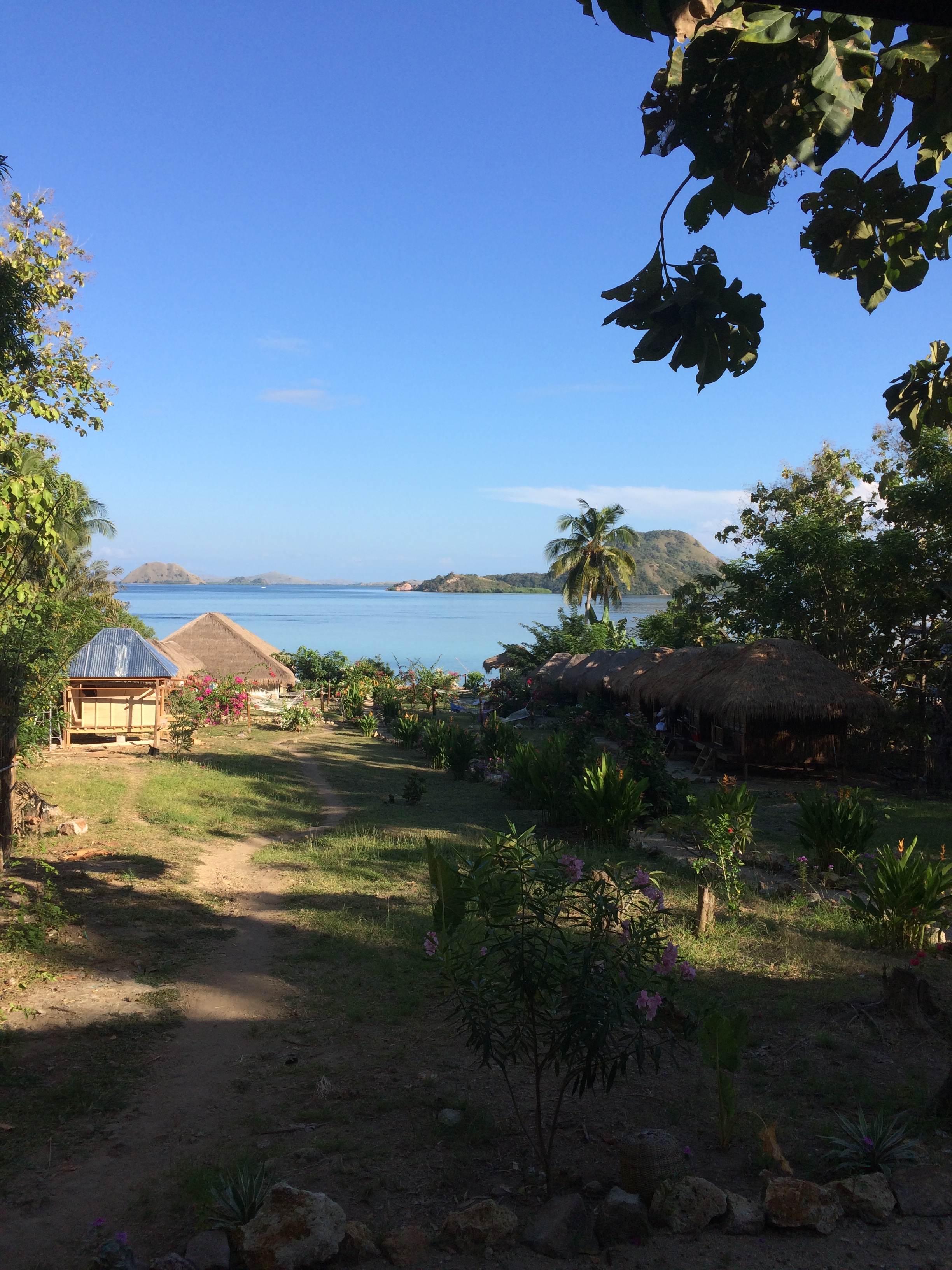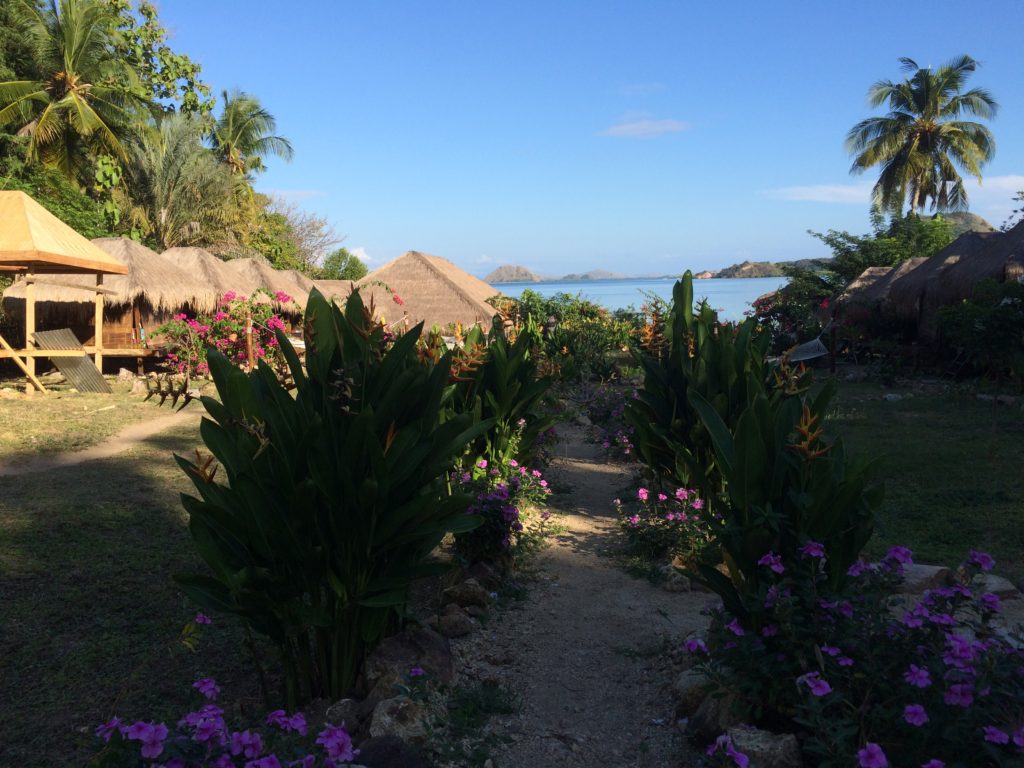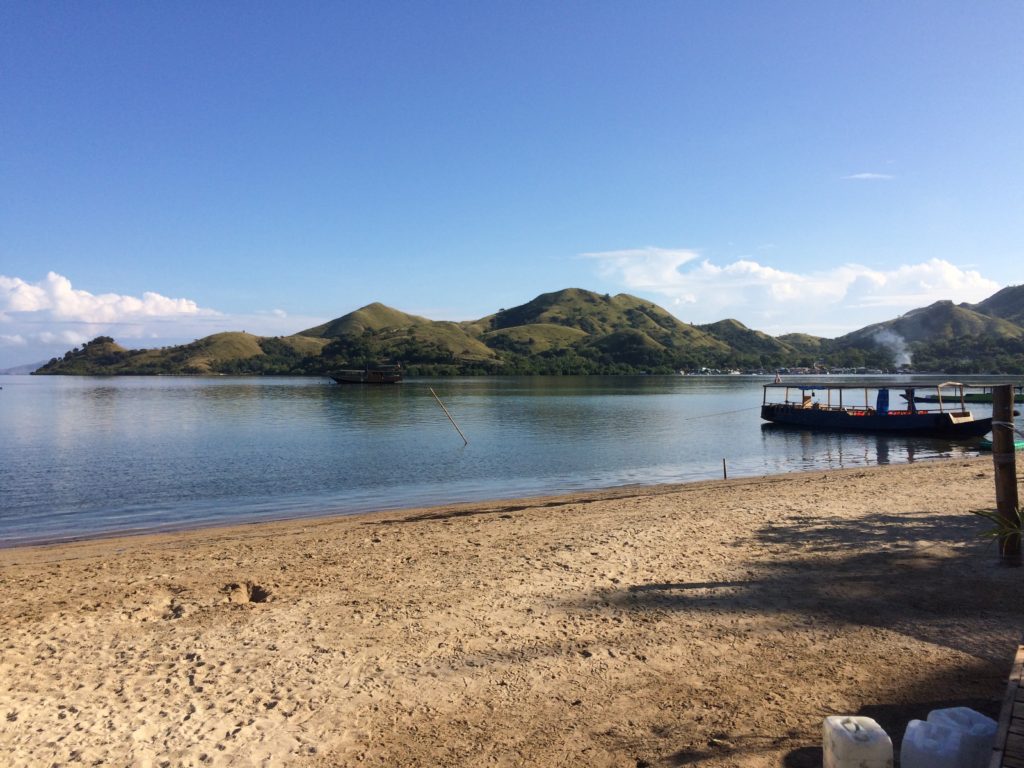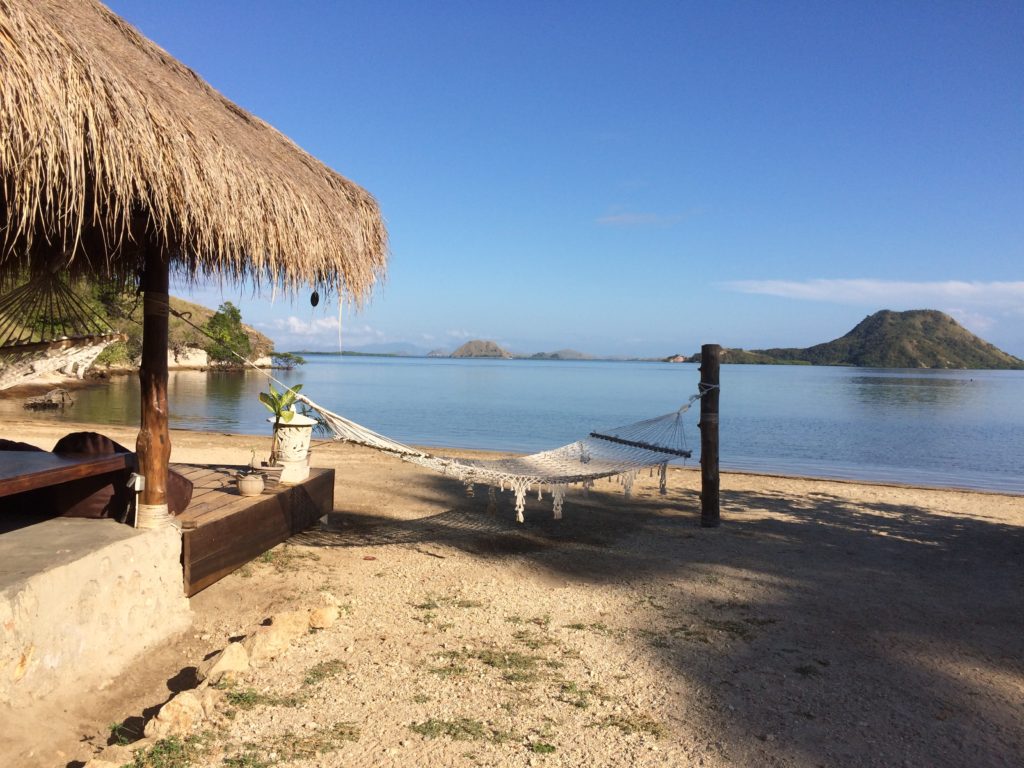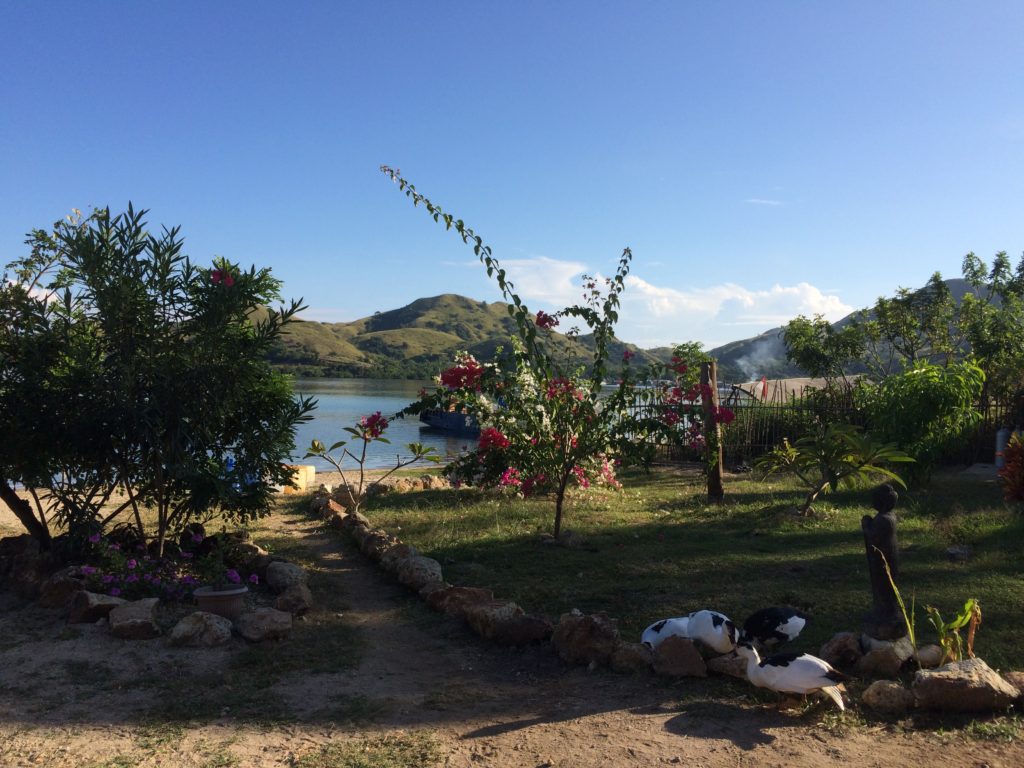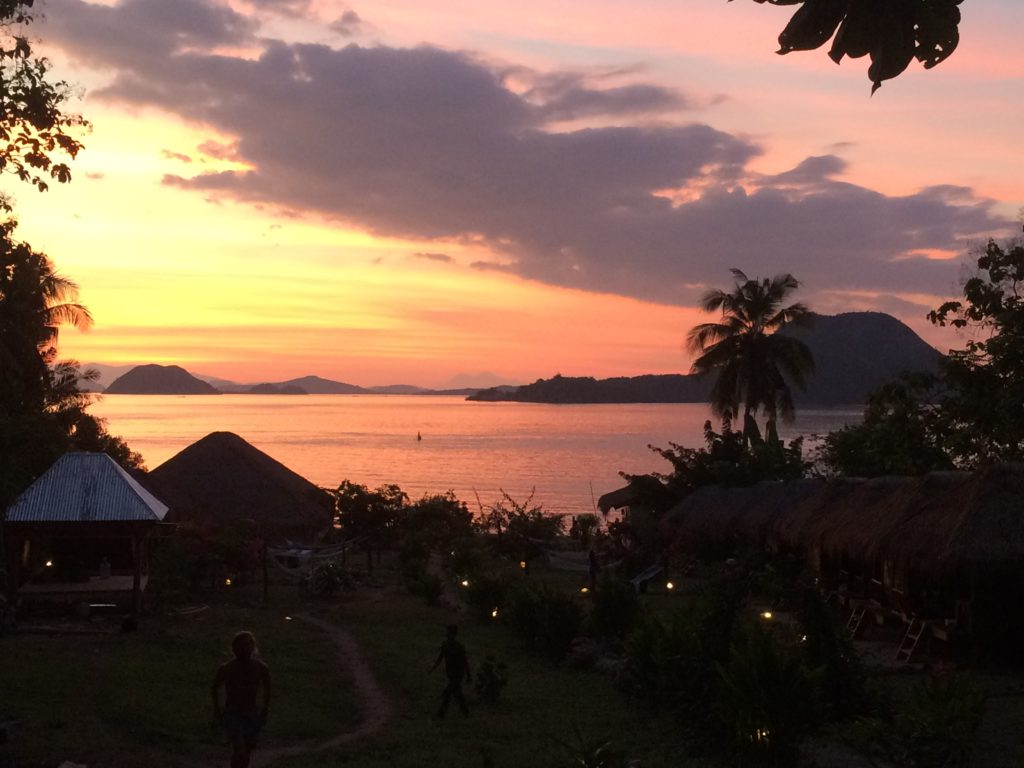 The diving itself was absolutely insane! We dived Batu Belong, Police Point, Mawun, The Cauldron, Crystal Rock and Siaba Besar (muck dive). Some sites were more memorable than others, as always, but the corals, fish and beauty of the Komodo National Park amazed me at each site! The journey to the National park normally took around 1h30 and the waters were nice and calm. We loved seeing the dolphins dancing in the bow waves but fell asleep and missed out on the marlin!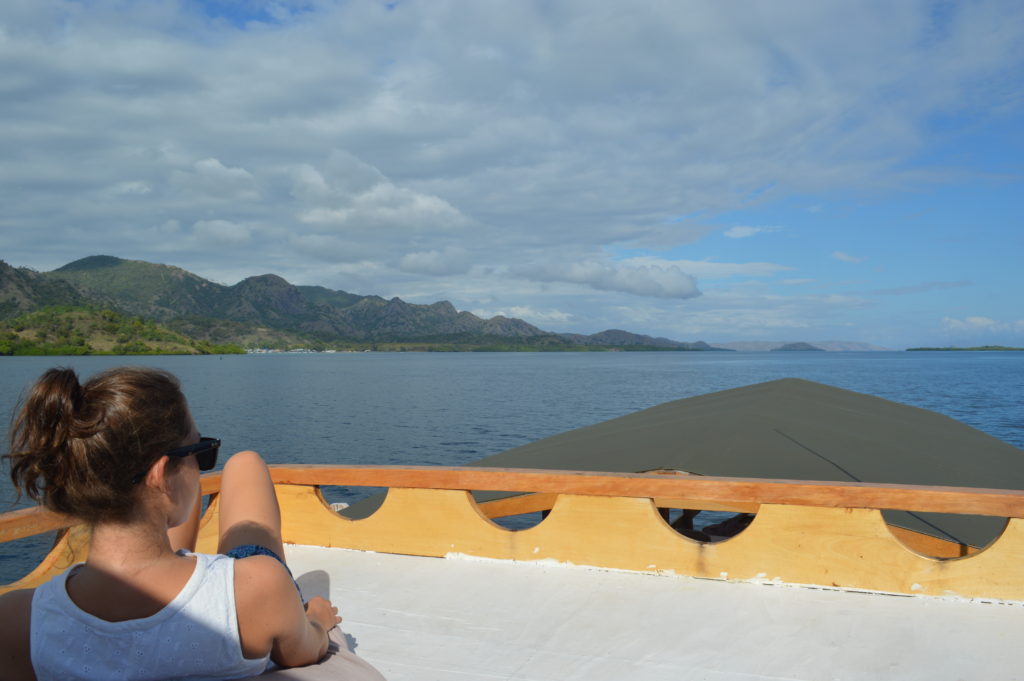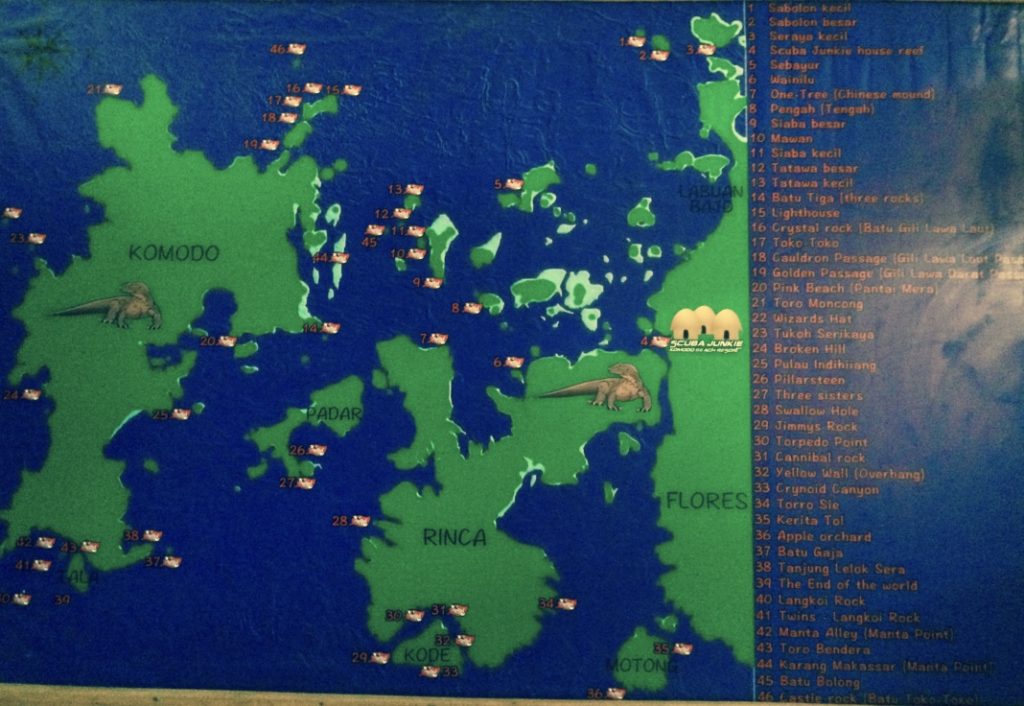 Diving Day 1
Batu Belong
May just look like a small rock on the surface but so much bigger underwater. Max explained that the currents can be strong at the edges of the pinnacle as it splits the current – so we didn't get too close to the edge. We dived down to 28m, zig-zagging across the rock. There were loads of big fish here including a barracuda and the most amazing corals.
Police point
This site is apparently a rarer dive as the currents can get so strong that diving this site becomes unsafe. We had taken a trip past here in the morning but moved onto Batu Belong as the current was too strong. The dive masters were excited that it looked good on our way back. We spent a lot of time on the dive exploring the huge overhang. The topography is incredible here and we saw some really cool fish as well including a leafy scorpion fish.
Mawun
In the afternoon we dived Mawun (which means "pretty") and it definitely lives up to it's name! We were hoping to see mantas here but were unlucky, although did see a bamboo shark peeking out from under a ledge. We also saw an octopus, and my favourite, the cuttlefish.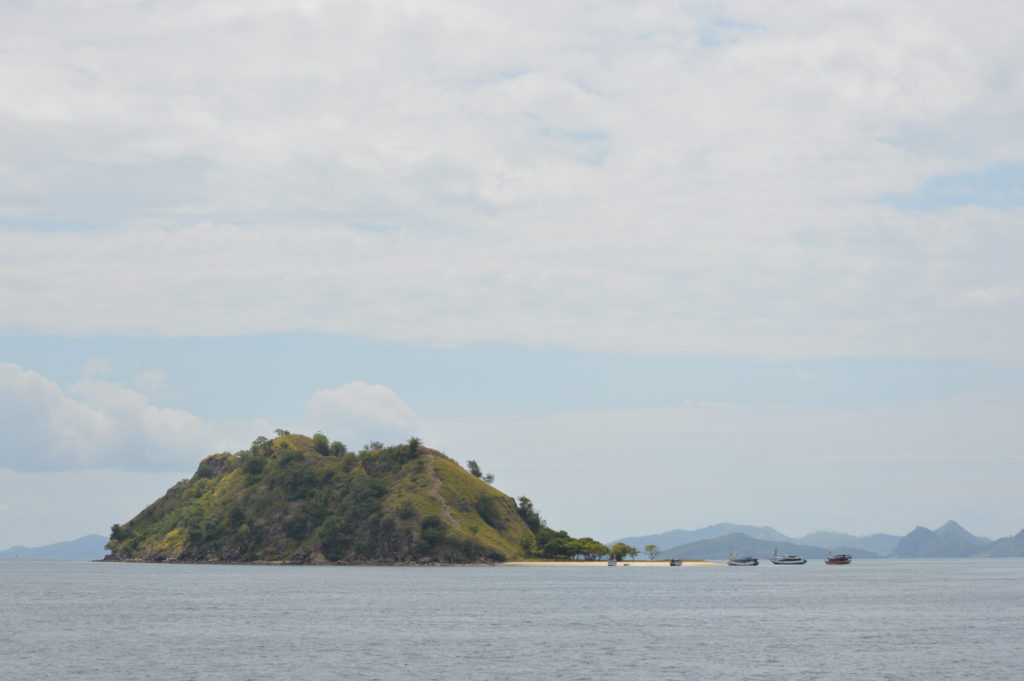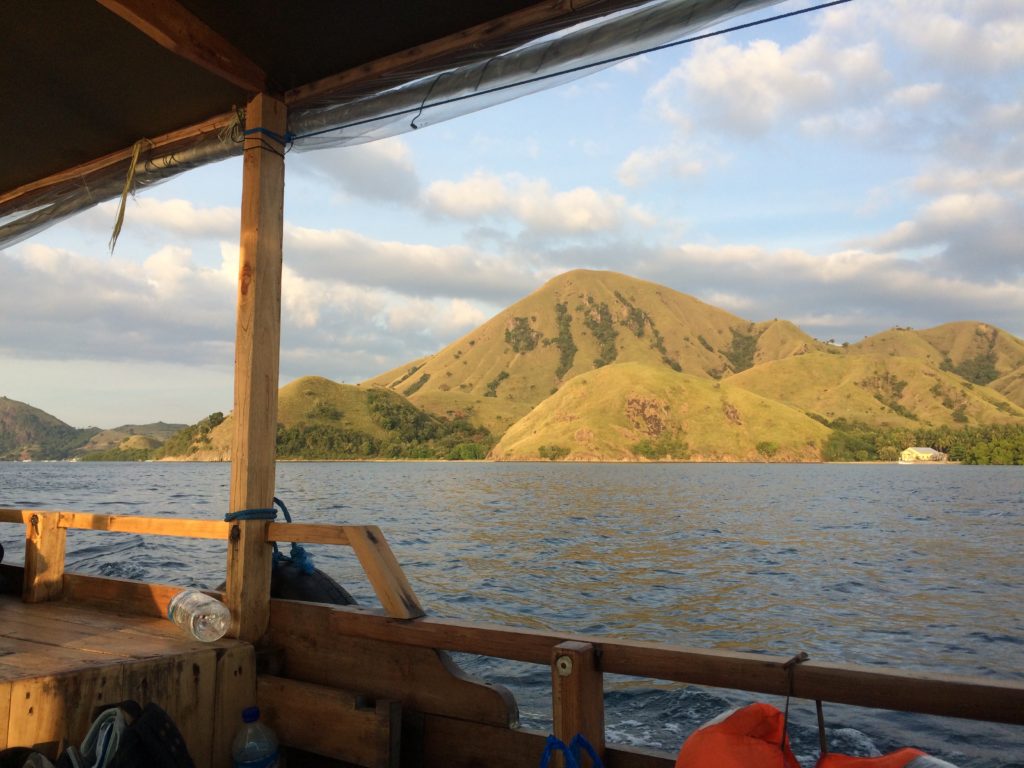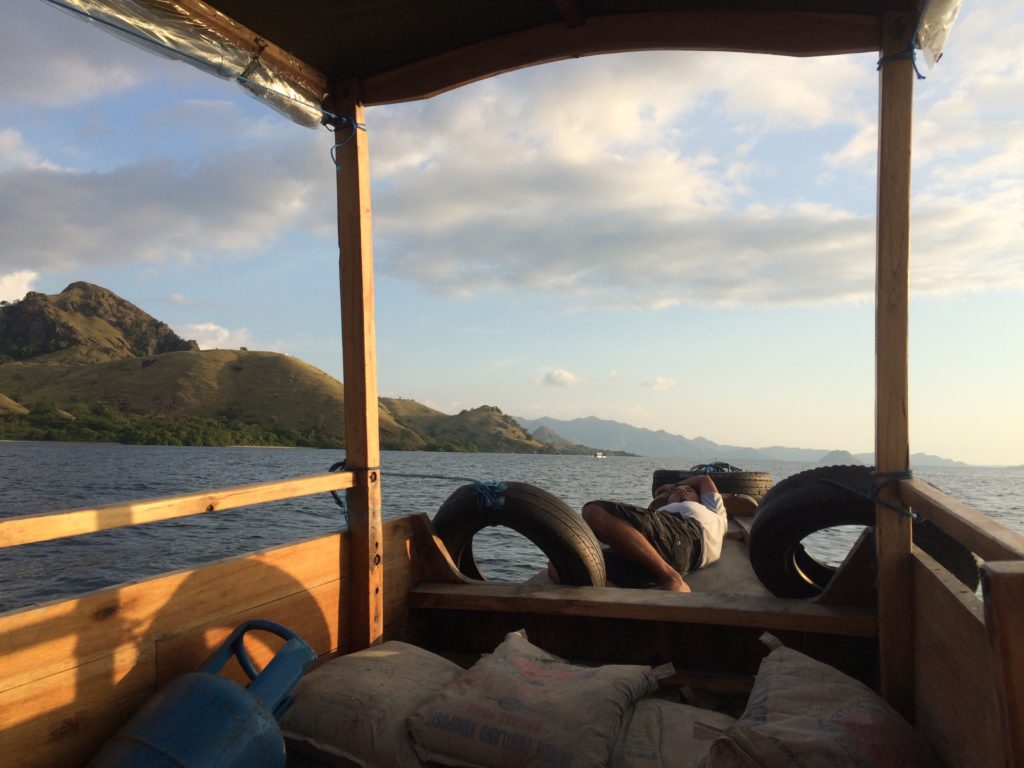 Diving Day 2
The Cauldron
The one we were waiting for. A hugely famous site at the North of the national park, renowned for currents that hurtle you between two rocks and spit you out on the other side (the shotgun). I can safely admit that we woke up a little bit nervous about this one, setting off at 6:15AM!
The start of the dive was just like any other, we did feel a gentle pull at the start but tucked ourselves out the way and watched the big fish playing in the open water "the goldfish bowl/cauldron". This was already becoming my favourite dive site of all time! There were massive giant trivially and snappers. Just as we were getting sucked down the shotgun we saw a big white tipped reef shark (possibly pregnant) and then we were off! Max tried to attach his reef hook so we could sit watching the fish bowl but kept missing. We were going so fast in the current but he managed to hook on half way down and Rob and I just caught ahold of his ankles! He wanted us to feel how strong the current was … very strong! It was pummelling us so hard, I felt like my regulator was being ripped out! The current slowed at the end of the shot gun and we had to swim sideways to get out of it. I was really struggling so Max came and swan with me! Lucky we were in such a small group. We ended the dive in some nice corals before being picked up by the boat. Unfortunately we heard some other groups had seen a manta at the end of the dive… serious bad luck.
Crystal rock
Crystal rock is made up of 3 pinnacles underwater, it's incredibly pretty and we saw another white tip reef shark! Rob wasn't feeling so good after this dive (think it was the adrenaline from the cauldron!), he managed a bit of lunch before we headed to our next dive spot; manta point.
It was quite worrying hearing that the last mantas were spotted here 3 weeks ago and there's not much else to see on this dive if the manta aren't around. As we couldn't see any around the surface we decided to move onto Siaba Besar instead to do a muck dive.
Siaba Besar
This was so different to any dive site I've ever been to before as we were just seeking out the macro. It was a completely sandy bottom with some sea-weed.  As it was quite shallow and we'd had a long rest, we had a bottom time of 70minutes! I was even getting cold towards the end of the dive in a long wetsuit! We saw lots of cool tiny things; frogfish, dwarf lionfish, crabs, baby pipefish, jellyfish and a flamboyant cuttlefish. We also saw a massive green sea turtle swimming around – he even popped up to check on Rob!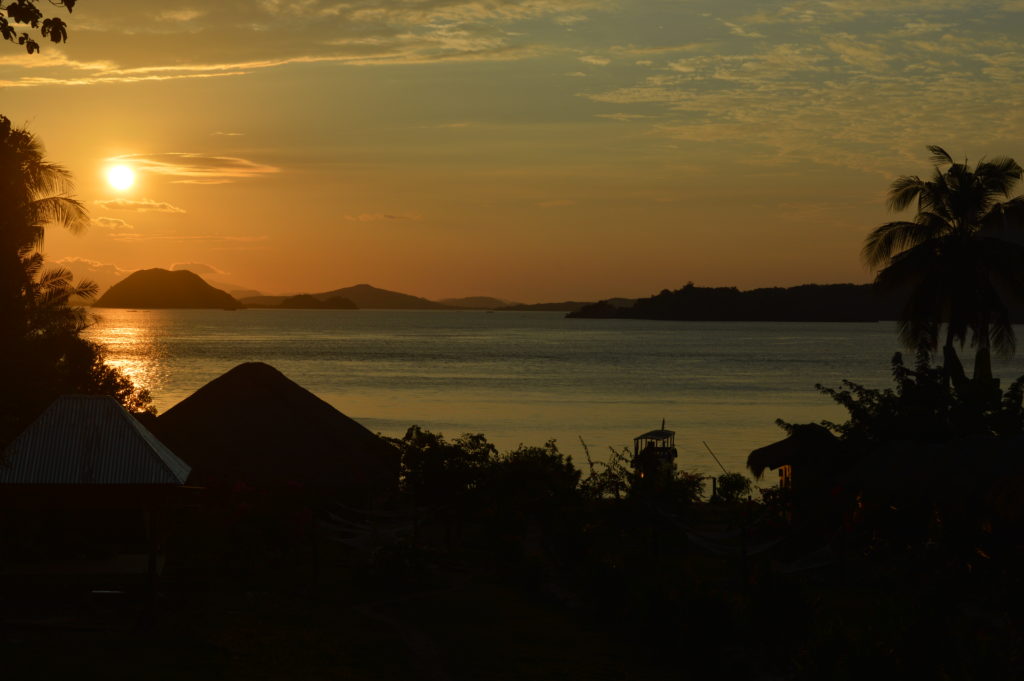 Day 3 – Off to see the dragons
Our third and final day meant the end of our diving in Komodo, we'd had an incredible time but were seriously gutted not to see any mantas again! Before heading back to Labuan Bajo, we headed over to Rinca island in search of the Komodo dragons!