After much deliberation, we have finally booked our summer holiday to Borneo!
Despite looking pretty small on the world map, Borneo is actually the 3rd largest island in the world, so travelling around it is not quite as easy as we'd anticipated. The island is split into Malaysian Borneo and Indonesian Borneo which makes travelling more tricky because costs are incurred crossing the border.
After diving in Komodo with Scuba Junkie, we started looking into their resort in Sipadan; another famously incredible dive site. However, as with most world class dive sites, it's very expensive and you actually dive more in Mabul because entrances to Sipadan national park are limited each day.
We then noticed Scuba Junkie have another new resort in Indonesian Borneo; Scuba Junkie Sangalaki on Derawan island! This looked like the perfect option; chance to dive with manta, swim in a stingless jelly fish lake, see massive schooling barracuda and even stay in a bungalow over the water for just 25$ per night! Watching this video pretty much had me sold:
Challenge 1: Finding the perfect dive school
Then came the 1st challenge… they were full for the whole of August! We were both pretty gutted, you can probably see why after watching that video, but there was a glimmer of hope when they said some space might come up as they were waiting for a large group to confirm for the final week. We did research some other dive schools on Derawan but didn't want to take any chances after a bad experience on Nusa Lembongan! We held off booking anywhere else and luckily they got back to us within a couple of weeks and said they had some space! Then came challenge number 2…
Challenge 2: Sorting out the dates
Being a remote resort, it's tough to get to Derawan island without a transfer from Scuba Junkie. This means we had to buy a package that tied us into certain dates as they only offer a transfer from Tawau on Mondays and Saturdays! You can see why we couldn't plan the rest of our trip until this was pencilled in! We were keen to head onto Maratua island afterwards to relax but our favourite accommodation there only offered packages starting on a Wednesday or Saturday. This was becoming a logistical nightmare!
Challenge 3: Getting around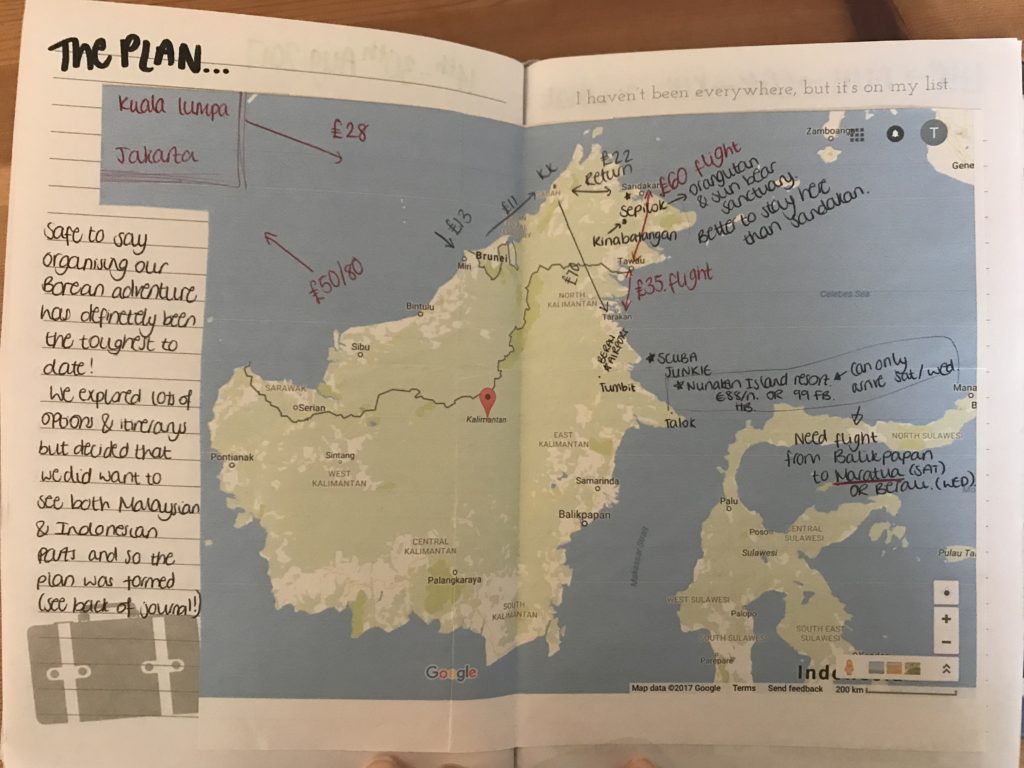 So far, I've only mentioned our plans for Indonesian Borneo as this was the hardest week to plan. (It probably would've been a much easier trip to plan if we'd just wanted to explore Indonesian Borneo) … but I was really keen to travel to Malaysian Borneo too. We focussed our trip in Sabah with plans to visit the Orangutan sanctuary in Sepilok and join a wildlife cruise down the Kinabatangan river.
Tied into dates at the end of the holiday with diving, we soon realised it would be cheaper to fly into Malaysian Borneo from Kuala Lumpur than Jakarta. The transfers from Scuba Junkie also made more sense to come down from Malaysia. Finishing our trip in Indonesian Borneo meant it was much easier for us to fly home from Jakarta than Kulala Lumpur (although when I say easier, we would still have to fly from Berau to Balikpapanan to Jakarata!)
So then we had the dilemma of our flights from the UK… should we book a flight into Kuala Lumpur but out of Jakarta or a return from Jakarta? In the end, the prices decided for us as return flights to Jakarta were in the sale for £610 from Etihad and it could be as cheap as £30 to fly one-way to Kuala Lumpur. The plans were finally coming together! Other flights we needed to book were just Kuala Lumpur to Sandakan (near Sepilok)… then when we were ready to move on, Sandakan to Tarakan and Tarakan to Tawau, ready for a 3hr speed boat journey down to Derawan.
Getting back from Nunakan on Maratua island also wasn't easy or cheap; costing 65euros each to transfer back to Berau. But we'd already decided that diving in Sangalaki was worth it!
Challenge 4: Finding accommodation
Diving is an expensive hobby so we normally try and make the rest of our trip the best value for money possible! This is pretty easy in Indonesia but the getting the same quality for the same price in Malaysia is harder to come by. However, there were plenty to choose from for a couple of nights in Kuala Lumpur and a few well-priced nature lodges in Sepilok (proving a cheaper option than Sandakan). There were also plenty of options for the river cruise, and although River Junkie (our first choice) were fully booked, we were happy with our final choice, as many providers offer exactly the same package anyway!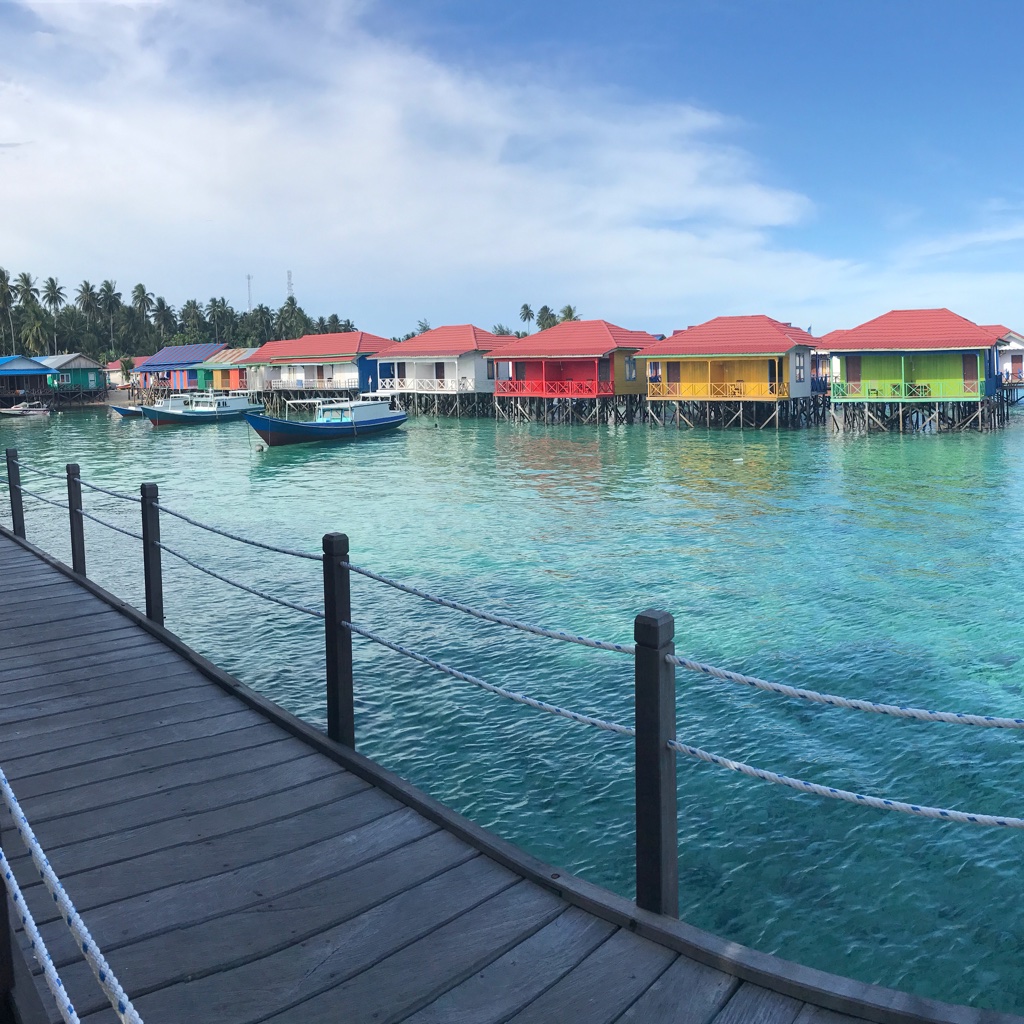 Make sure to check out the rest of our Exploring Borneo series to find out how all our plans came together! It was definitely worth all the hard work once the plans came together!!