Our first time skiing in Mayrhofen was back in December 2013 – Rob's first skiing holiday! We loved it so much we returned for Easter 2016 with our friends Joba and Charlotte.
Our journey to the mountains- making travelling cheaper!
Ski trips are SO expensive in the school holidays and therefore we are always looking for ways to make them more affordable! Skiing in Mayrhofen meant that we could fly to Munich and then catch the train all the way down to Hippach (where our accomodation was). Flying into a non-skiing airport can often help reduce the price. The trains are also very cool with little cabins for 6. It was a very busy train so I'm glad we had pre-booked our seats. Towards the latter part of the journey we also had beautiful views of the mountains.
We have recently been skiing again in Mayrhofen (in 2016) and completed the same journey. This year we did a Sunday-Sunday trip but this did cause some train problems and long waits on the way back… lots of work gets completed on Sunday it seems! Good job we left in plenty of time for our flight!
Our accommodation – The Kirchbichlhof
Both our trips here have led us to the Kirchbichlhof; a very quaint local hotel where the language barrier is the only slight problem!
The first time we came we booked our acommodation and ski pass package through snowtrex. It was a bit of a risk because the Kirchbichlhof wasn't on tripadvisor at the time, but the risk paid off! The rooms are a very good size for a ski hotel and it feels like a chalet because of all the wood.
The food is also really good and being half board is great for skiing. We could have a good breakfast and even make sandwiches to take for lunch if we were feeling cheeky. We didn't as food up the mountain was actually pretty reasonable compared to some ski resorts. The evening meal options changed everyday and there was always something to suit everyone.
When we returned in 2016, we couldn't find such a good deal on snowtrex so booked our acommodation directly with the hotel and then bought our lift pass on arrival – just as easy as there is an office right by the Horbergbahn (the closest gondola lift to Hippach).
There is also a free shuttle bus that leaves from right outside the hotel which was a complete bonus as I hate carrying my skis!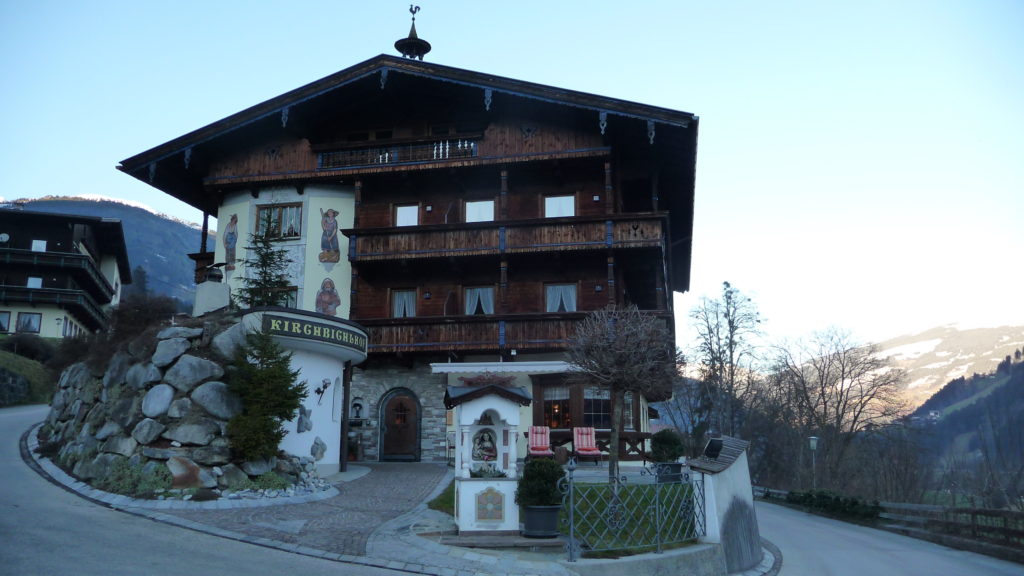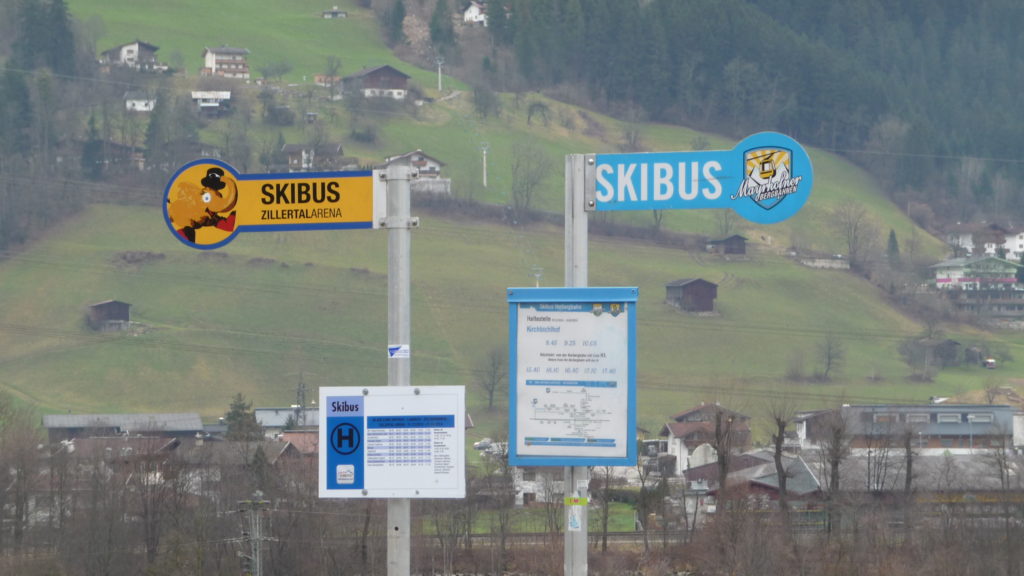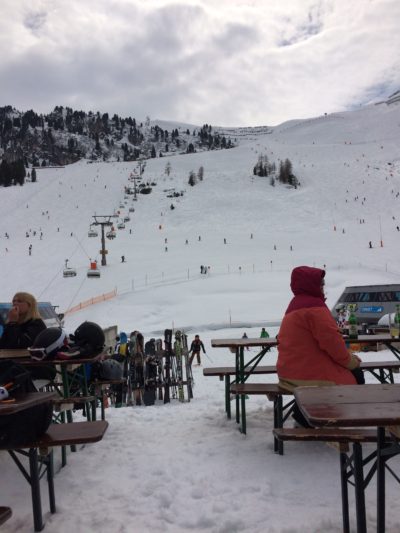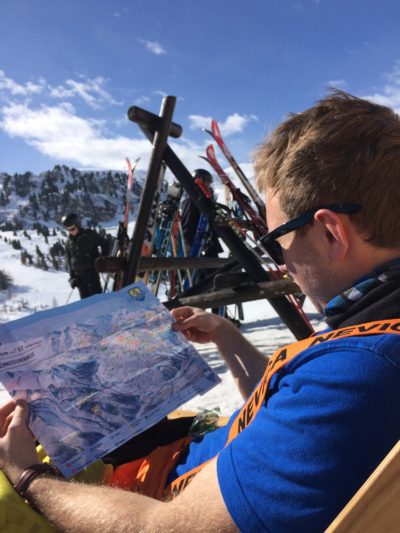 The ski resort
The lift pass for Mayrhofen is a zillertaler superskipass, which gives you the freedom to ski in Mayrhofen, the Zillertal arena or over at Hintertux.
Skiing in Mayrhofen
In 2013 we stuck to skiing in Mayrhofen as Rob was a beginner. However, I wouldn't recommend this resort to beginners as the runs are quite challenging. There are no green runs and some of the blue runs would probably be categorized as red in France! You can view a piste map here: http://www.piste-maps.co.uk/Austria/Mayrhofen
Ahorn is a separate part of the resort which is better for learners, but I was keen to move us away from there after day 1! However, it is worth a visit as there is a igloo ice bar (the white lounge), a skicross course and a VERY challenging run back down to the base. In 2013 it was a red which is why I skiied it… I'm very glad to see in 2016 it's a black because it was mental!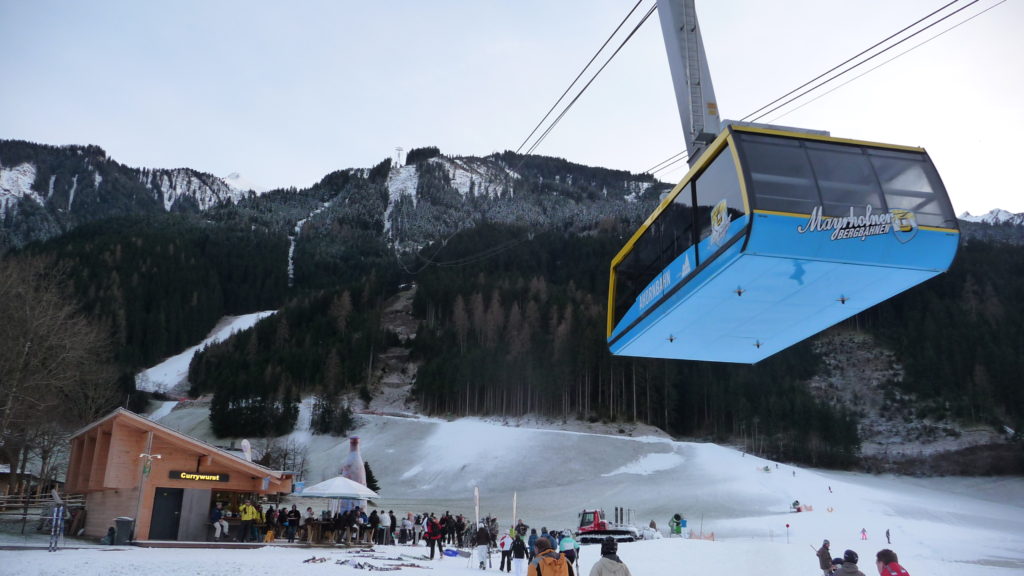 Mayrhofen skiing is really good fun and definitely provides a good level of challenge. The snow over the back at Rastkogel is normally the best and there are some slightly easier, wider runs over this side. There is also a cool red run taking you back to the other side but it gets very moguley towards the end of the day at Easter. There is also a cable car to take if you're not up to skiing back!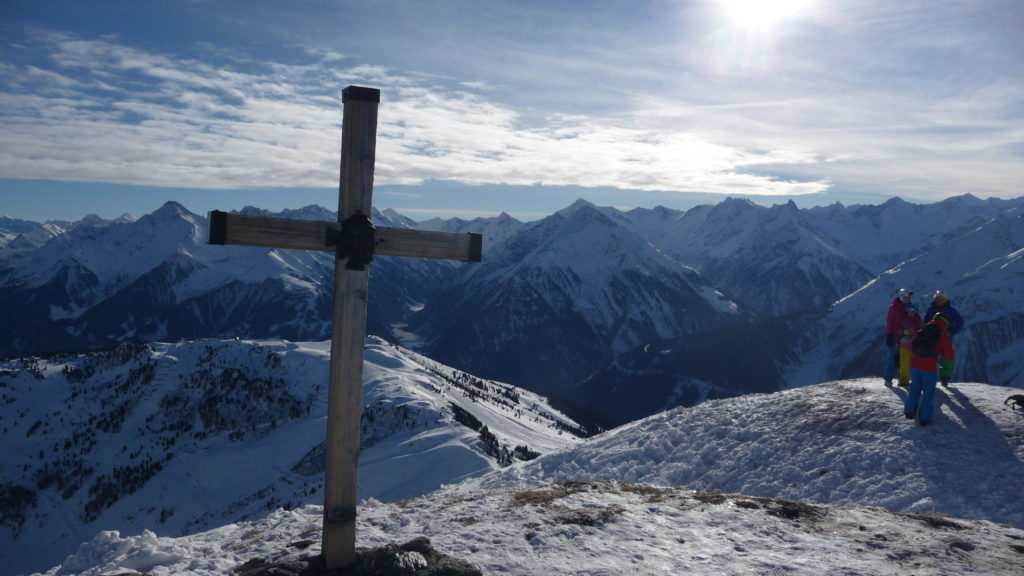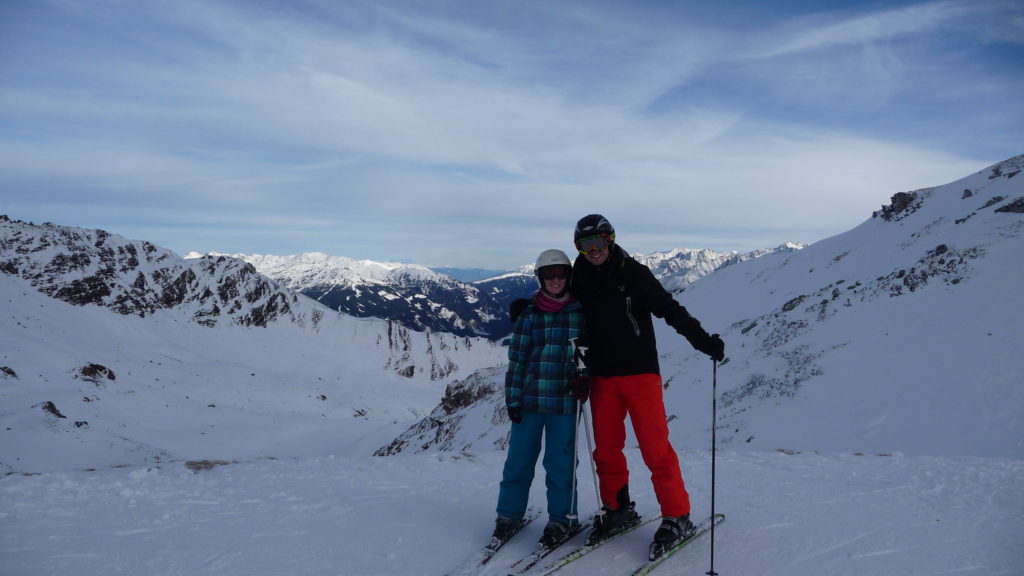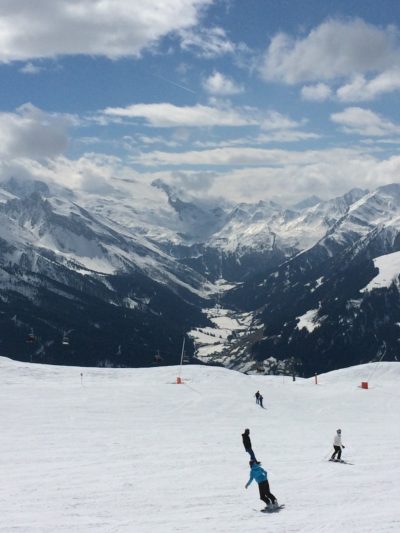 Rastkogel does also link into Eggalm… however we only made it over to here in Easter 2016 and the snow was VERY slushy!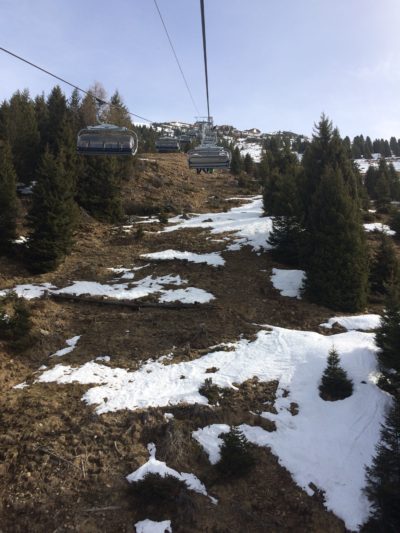 Throughout the resort, there are some beautiful runs through the trees although a couple of them get very busy during ski school hours. The views are also incredible. The lifts are all very modern, so nice getting on a heated chairlift with a bubble cover for the first time! It is a very picturesque resort which is one of the reasons I love it so much! There is also a good snow park and the famous Harakiri black run (78% gradient) for the more adventurous.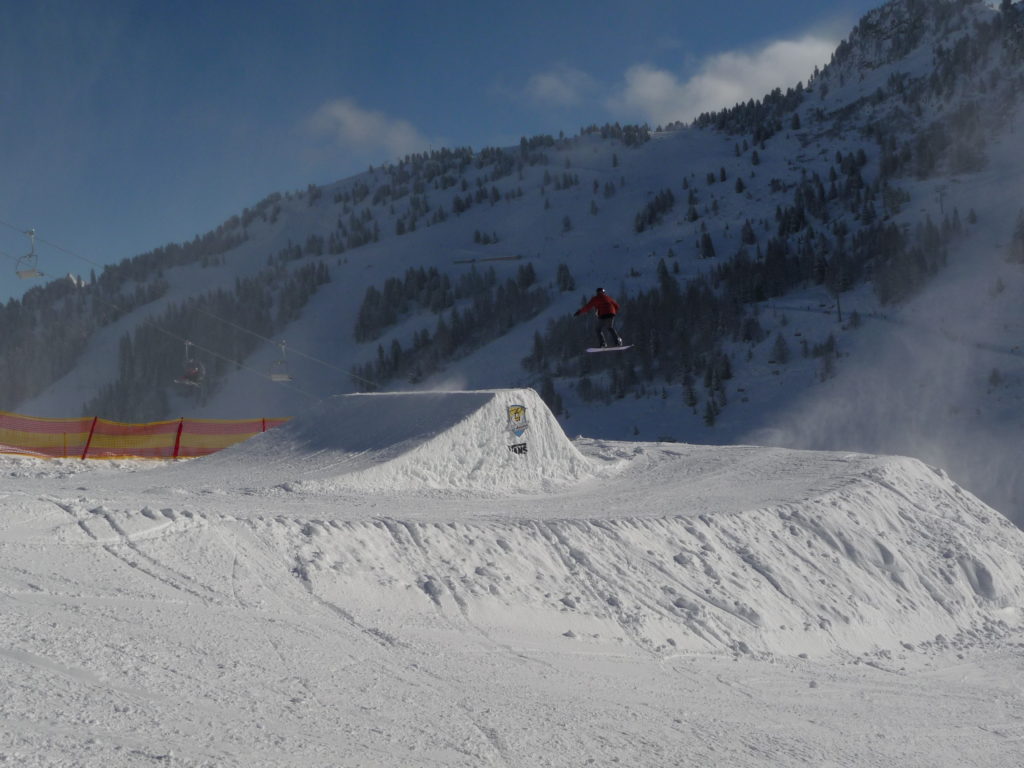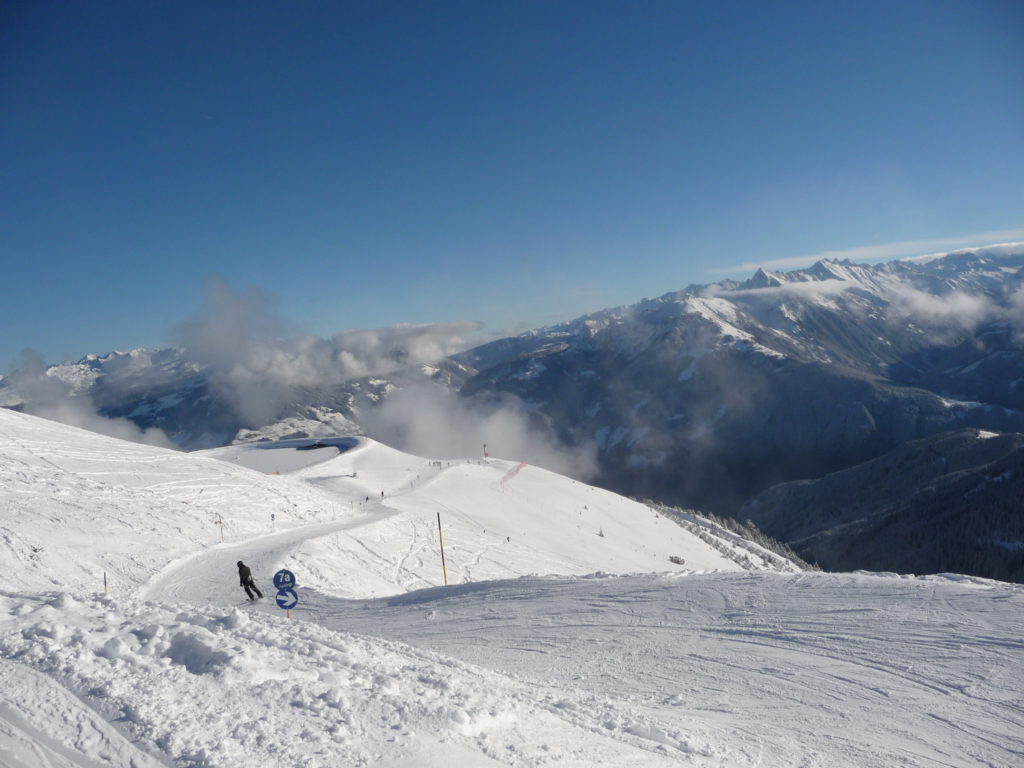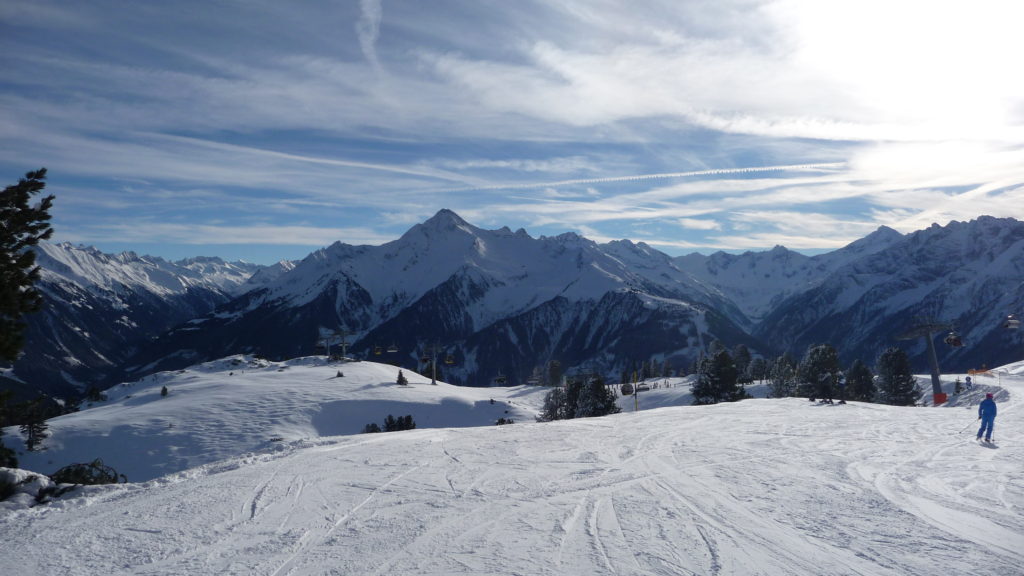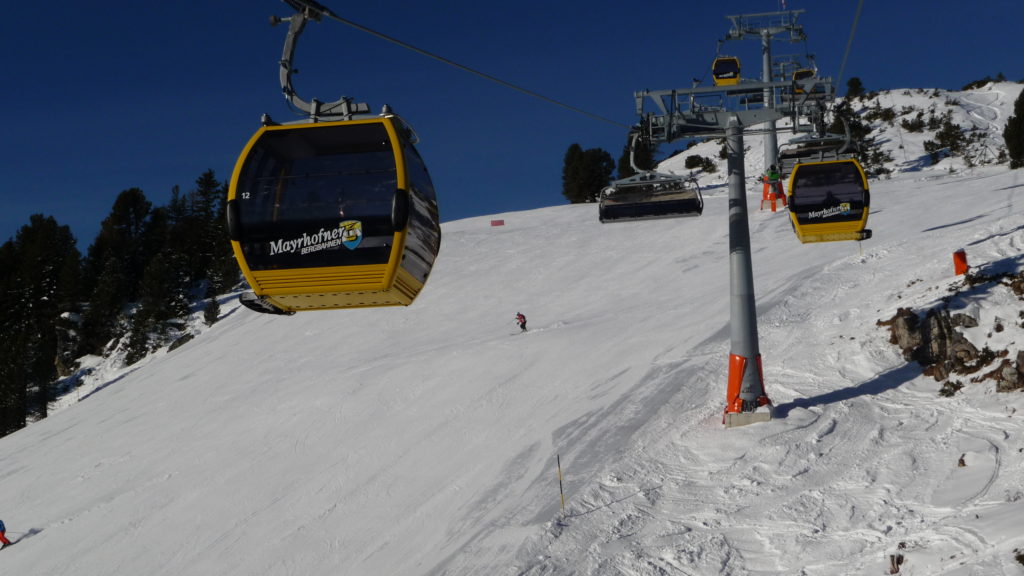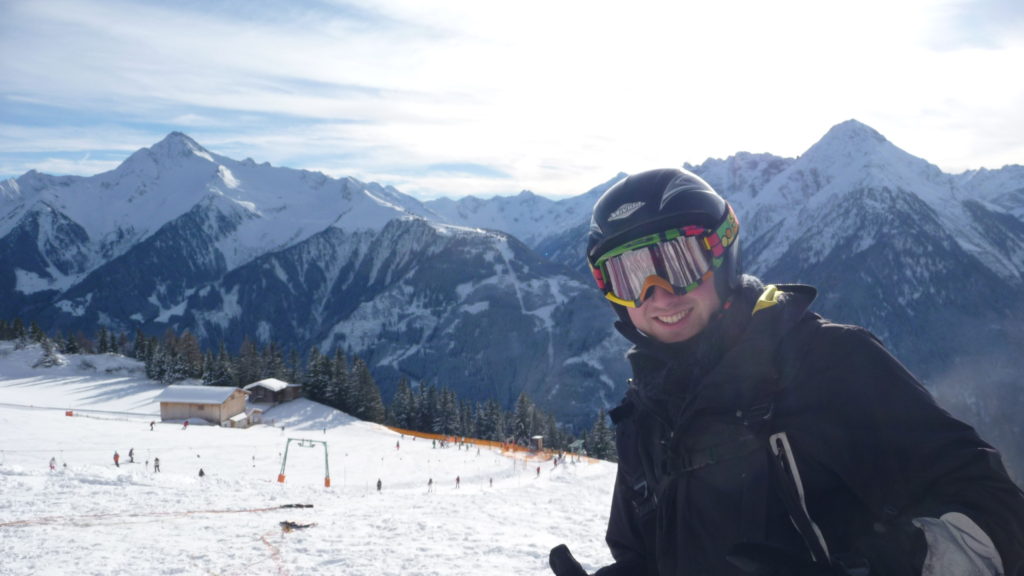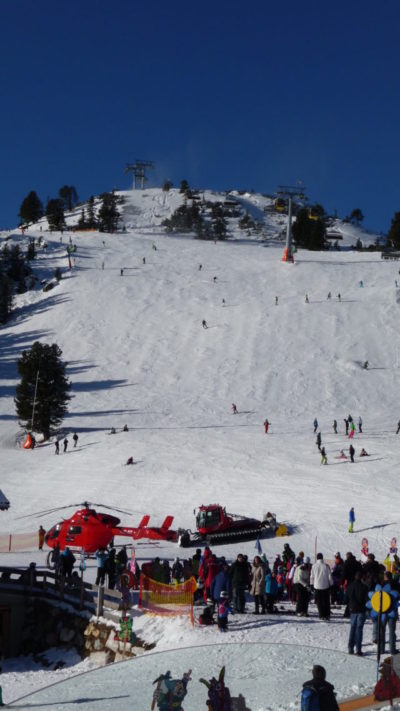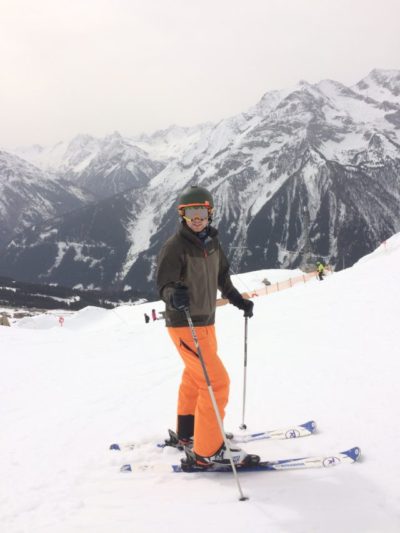 Hintertux
In Easter 2016 the snow was starting to struggle a bit so we decided to head over to the glacier at Hintertux for a day. It was a bit of a mission to get there. We were staying in Hippach so we had to get the train into Mayrhofen and then the bus over to Hintertux (all included in the liftpass … but just an effort walking all our ski gear from the Kirchbichlhof down to the train!) The bus journey was beuatiful but quite long (around 45 minutes).
It takes a few gondola rides to get right to the top and once we were there it was super windy! I imagine this resort is more like skiing in America, with big wide runs. We actually didn't stay for too long due to the weather but stopped at a massive restaurant for Rob's favourite Austrian dessert; kaiserschmarrn!