Koh Tao is a great place to learn to scuba dive, there is loads to see and a variety of around 25 different dive sites. I did 6 fun dives whilst Rob completed his PADI Open water and was in awe of the amazing fish and corals around the island.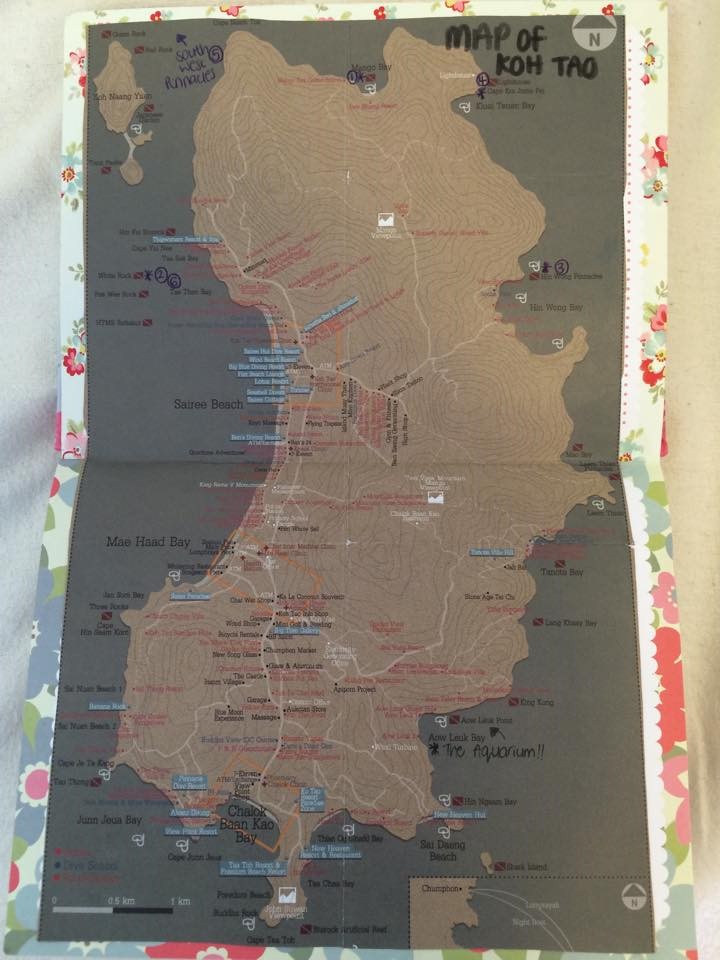 The logistics…
We did quite a bit of research before booking to dive on Koh Tao and chose Sairee cottages due to it's excellent reputation and reviews. We were happy with our choice; Rob had a fantastic experience learning to dive with them and I really enjoyed my fun dives.
If the tide was in, we were able to get to the dive boat from Sairee beach via long-tail boats. However if it was out we would have to travel via taxi (truck) to the Harbour and meet the boat there. All the equipment was already loaded on the dive boat… it was great not having to ever carry a tank!
We would then have the dive briefing on the boat as we travelled to the first dive site. Each day the dive centre would select the sites to visit so there wasn't much flexibility, but all the ones I went to were fantastic.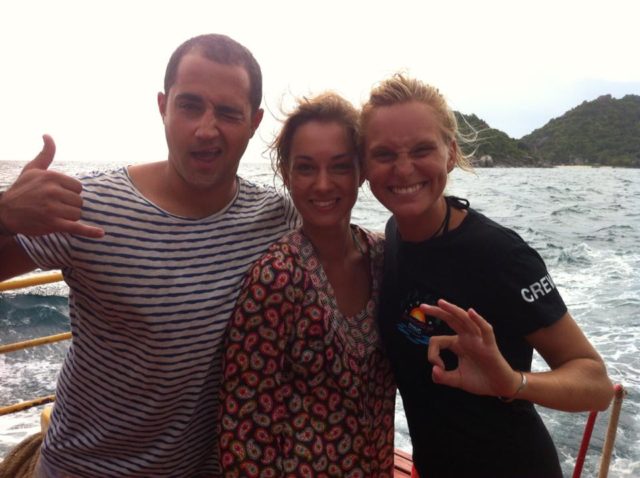 Every day I booked in for 2 dives, so after the first dive, we would head off straight to the next site.
The div

e sites…
Mango bay

White rock

Hin Wong Pinacles

Lighthouse

South west pinnacles
Some more info about some of these site that I kept in my holiday journal is detailed below: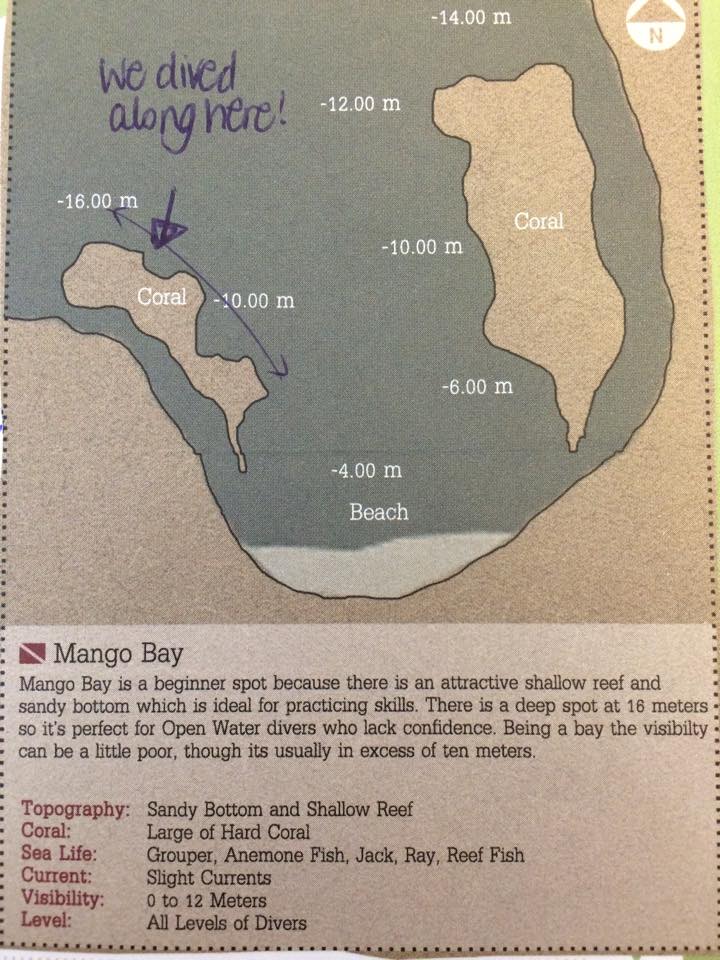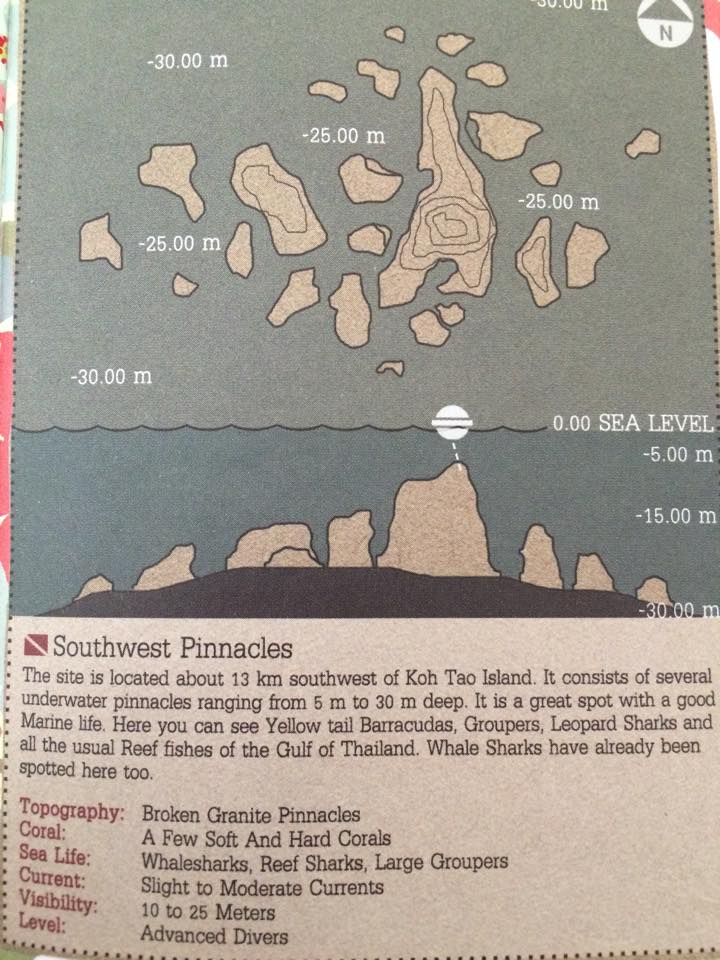 Things to see…
We were hoping to see turtles as Tao means Turtle… but sadly our dive master said they have all but one disappeared and we weren't lucky enough to see the lonely remaining one. However, if you love Finding Nemo… you will see pretty much all of the other characters around Koh Tao (minus the sharks)! There are also loads of angel fish, butterfly fish, sergeant majors, trigger fish(!) and big schooling trevally.  One one dive we saw an eel, blue spotted sting ray and massive grouper! We also saw a huge school of fusiliers and a crocodile fish hunting them. So loads to see when your down there, at times it's almost like you don't know where to look as there is so much going on! The Sairee cottage dive masters were great at pointing out both the big fish and teeny nudibranch and really enthusiastic when discussing what we had seen when filling in the log books!
Our stories…
It wouldn't feel complete writing this post without telling a couple of our frequently relayed stories!
Turns out the trigger fish in Thailand are particularly territorial in August and if you swim into their V shaped nesting zone you could very well get attacked. Unfortunately this wasn't highlighted in my first dive briefing and so when my Japanese buddy started panicking and swimming up away from the large fish biting her fins, it just followed her up! The dive master with us quickly noticed and starting tapping his tank, attracting the fish towards us!! I've never used up my air so fast, it felt like something from a horror movie! So if you do dive in Thailand… watch out for those trigger fish!
South West Pinnacles = sea sickness!
We had to get up really early to be able to dive over at this dive site. What we didn't realise is that it was 10km away from Sairee beach and the sea was pretty rough that day! After being sick before and after my dives (and Rob joining me!) I never take any chances on longer boat trips anymore. The dive centre gave us some travel pills when we returned (as we had to endure another boat journey over to Koh Phangan that afternoon) but it was too late. As soon as we were underwater the seasickness resided but it is so hard to set up dive equipment feeling so ill! Hopefully never again!
For more scuba diving tips, you may like to check out my post: My scuba diving top tips