I love Wimbledon… I actually enjoy watching most sports but there is something magical about that place. I used to love watching Wimbledon on the TV but it is so much more exciting in reality; the atmosphere around the grounds is incredible! However, as a teacher, it's pretty much impossible to go to Wimbledon other than on "middle Saturday" (unless you have an extremely nice Headteacher!)… so I normally end up camping overnight in "The Queue" in the hope of getting a show court ticket (and if not, definitely a guarantee of entrance into the grounds for the day).  So when I realised the Roland Garros falls in the May half term holiday I was so excited, especially when I realised how easy it is to buy tickets in comparison!
We bought our tickets on the Roland Garros website https://tickets.rolandgarros.com/en/home but had to research the sale date before and get a log in so we were ready the instant they went on sale. We were lucky enough to get tickets for the first Wednesday and Thursday! All the show courts were still available and we chose Suzanne-Lenglen since Andy Murray was on this court last year. It was also slightly cheaper than Philippe-Chatrier (where the big French stars normally dominate). We obviously had no way of telling who would be playing on each court so it was a bit of a guessing game, but as we were going in the first week we knew there was a better chance of seeing some of the top seeded players. We couldn't choose specific seats but there were several different categories to choose from which gave us a good idea of where we would be sitting and an opportunity to weigh up the price differences!
In Pairs, we stayed in Menilmontant (about a hour away from the Roland Garros) which wasn't ideal and I think if we were to go again we would try and stay a bit closer. However all of Paris does seem to share in the excitement with the even Eiffel tower sporting a tennis ball!
The journey across Paris was very straightforward as there are several metro stations (on lines 9&10) within a short walk of the Roland Garros which makes it easy to get to – we used the Michael-Ange Atteuil stop (and walked past a great bakery – amazing lemon meringue pies)! There were signs on the ground pointing people towards the grounds but it's easy enough just following the crowd! We also took a packed lunch and some drinks in with us which helped justify the expensive bakery stop!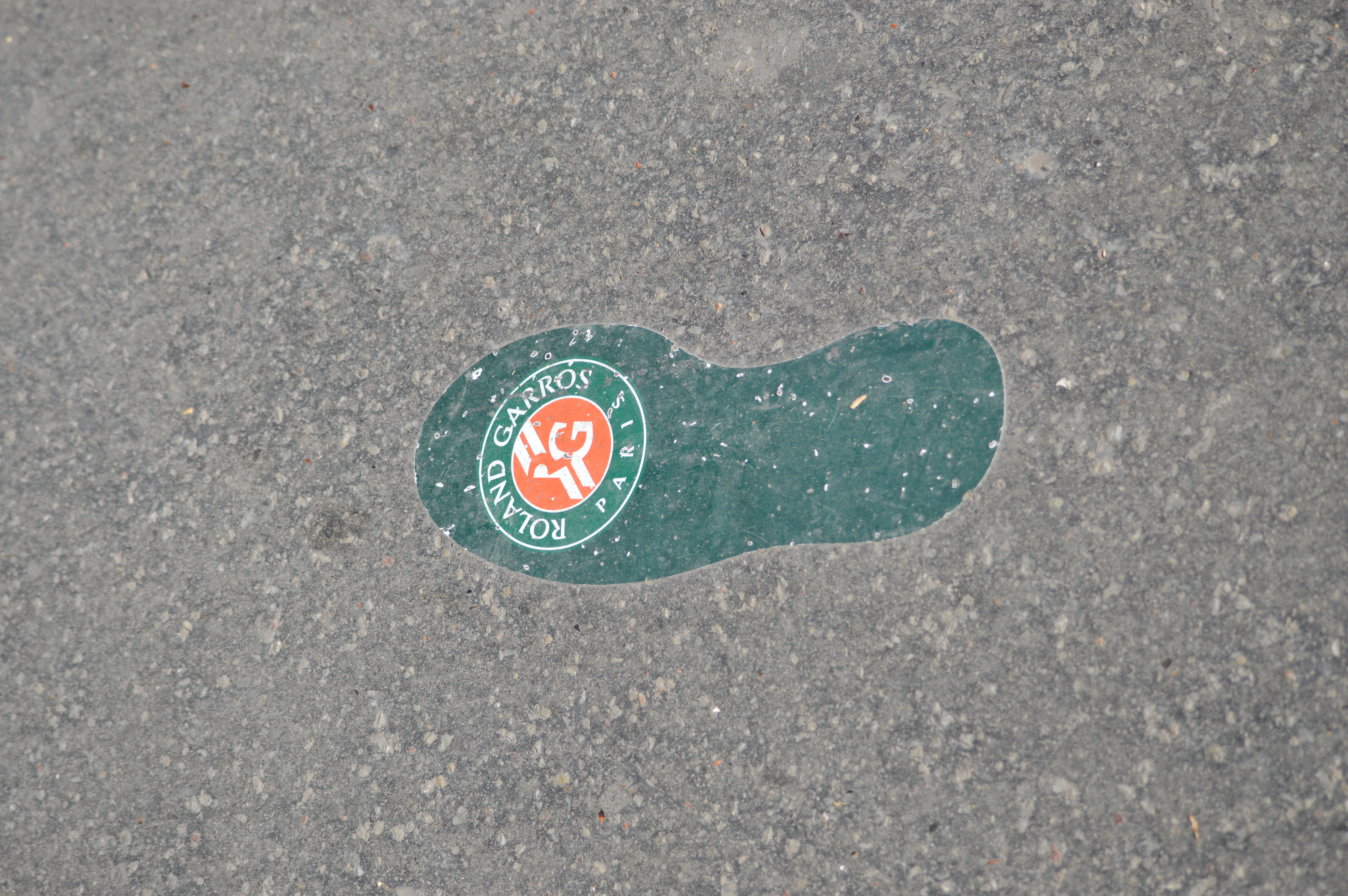 On the first day asked one of the stewards which gate we should use to get to Suzanne Lenglen. He advised gate B but this seems to be where everyone goes (even to just buy a ground ticket it seemed) so we had to join a big queue to enter the grounds meaning we missed some of the first match on Suzanne Lenglen.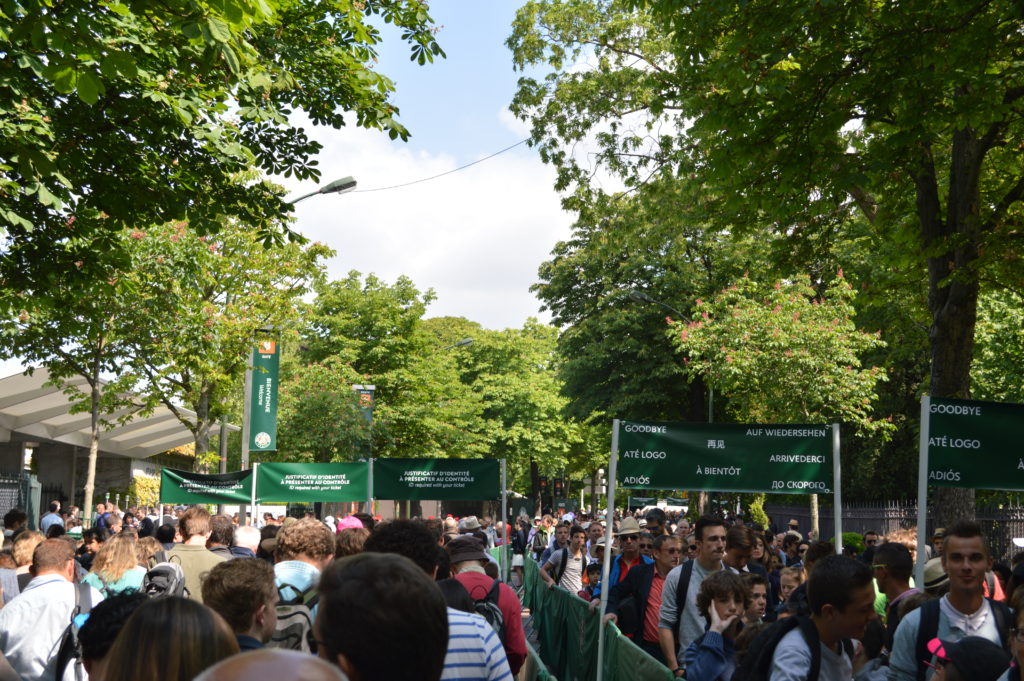 On the second day we tried gate L as the map suggested this was much closer to our court – no queue at all! So although it was a slightly longer walk from the tube it was a much better way for us to enter the grounds.
Day 1
The Roland Garros app is really good and it meant we were  able to see who would be playing on each court and plan out our day during the previous evening. On the Wednesday on Suzanne Lenglen, we saw
Stosor [26] v Hesse

Granollers v Federer [2]

Lucic-Baroni v Halep [3]

Tsonga [14] v Sela
and also popped out to support our GBR players Heather Watson and Jamie Murray! The atmosphere on the courts was pretty similar to Wimbledon, especially for French players – Tsonga played a great game for his home crowd. But the grounds weren't quite a magical… something missing (maybe the overflow of overpriced strawberries and cream, Pimm's and champagne!) The courts all had quite high walls so you couldn't catch a glimpse of a range of courts, unlike Wimbledon where it feels more open plan and the pathways were always heaving with people. But there were plenty of stalls selling food and merchandise and the friendly tennis atmosphere prevailed!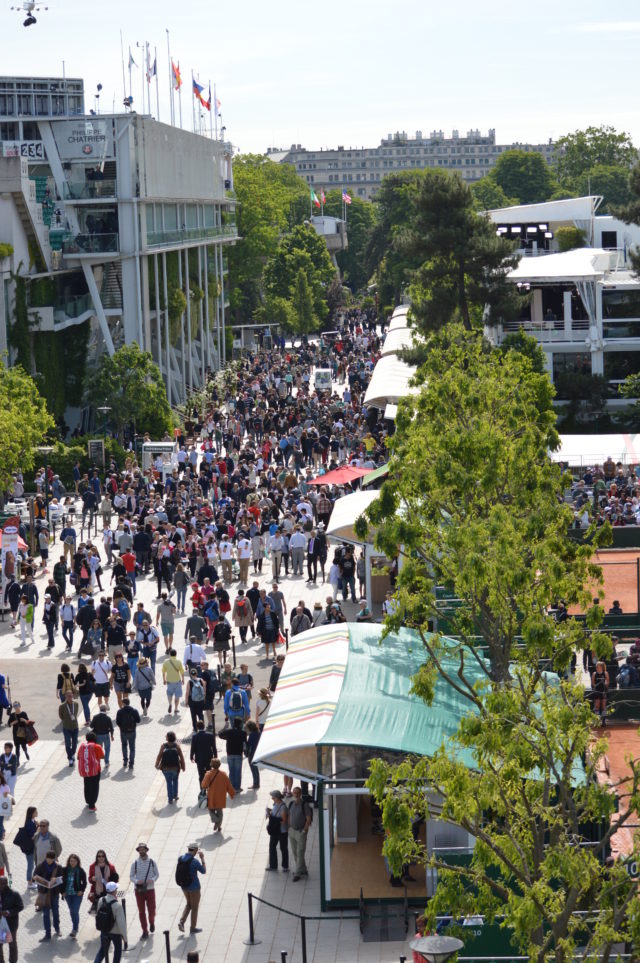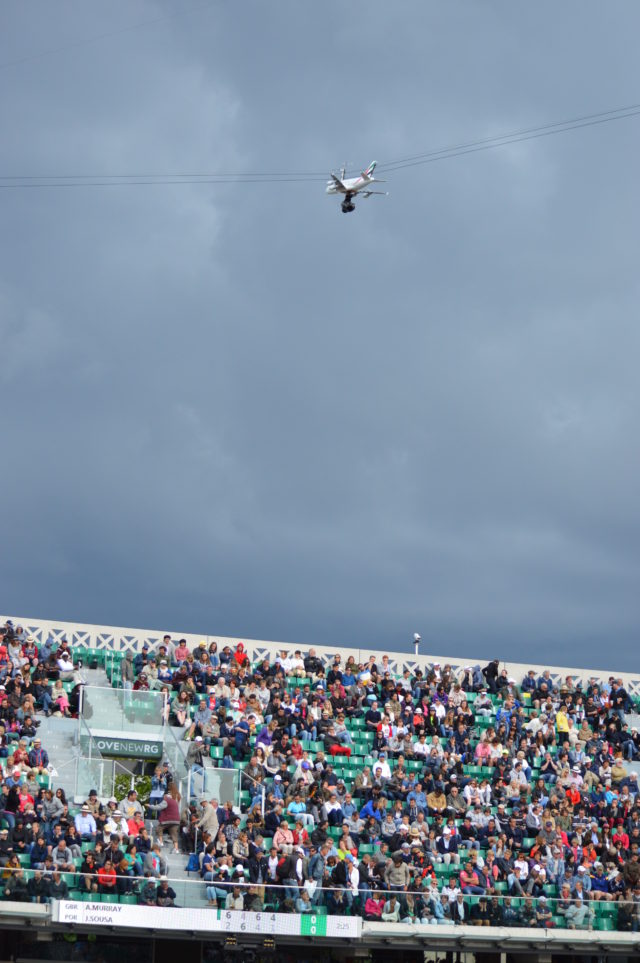 Federer was amazing to watch as usual, just looks so elegant and effortless! We were treated to a really great day of tennis.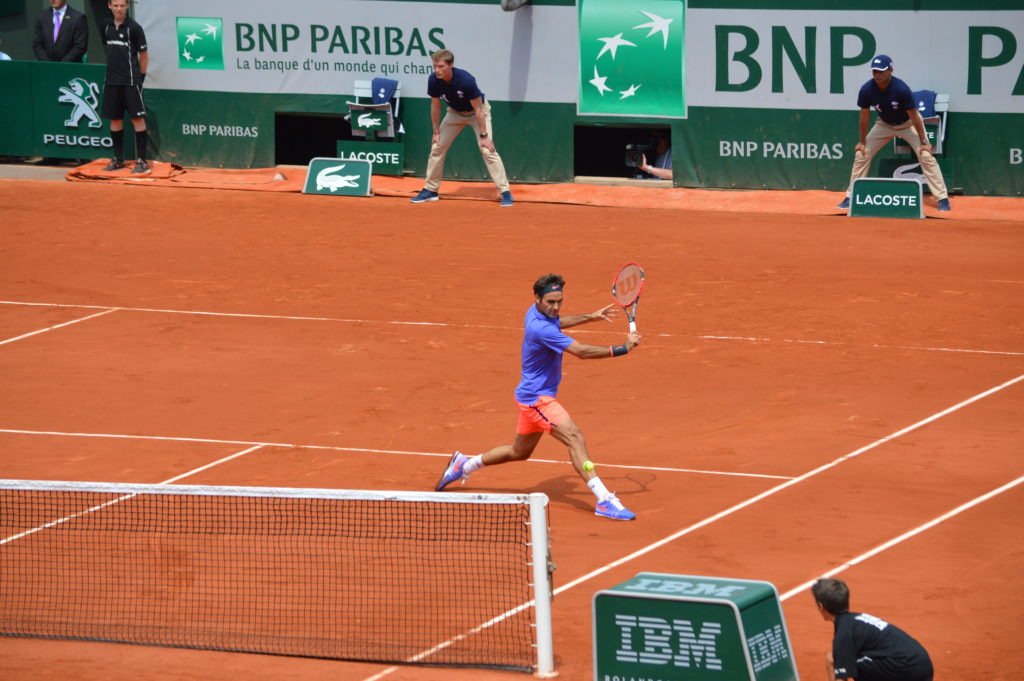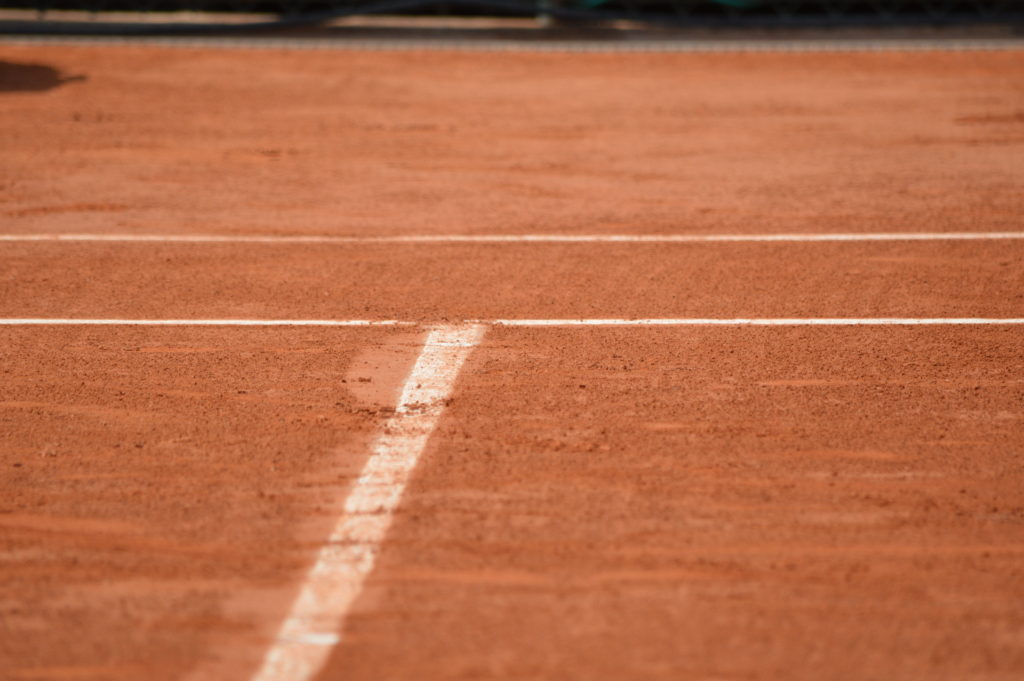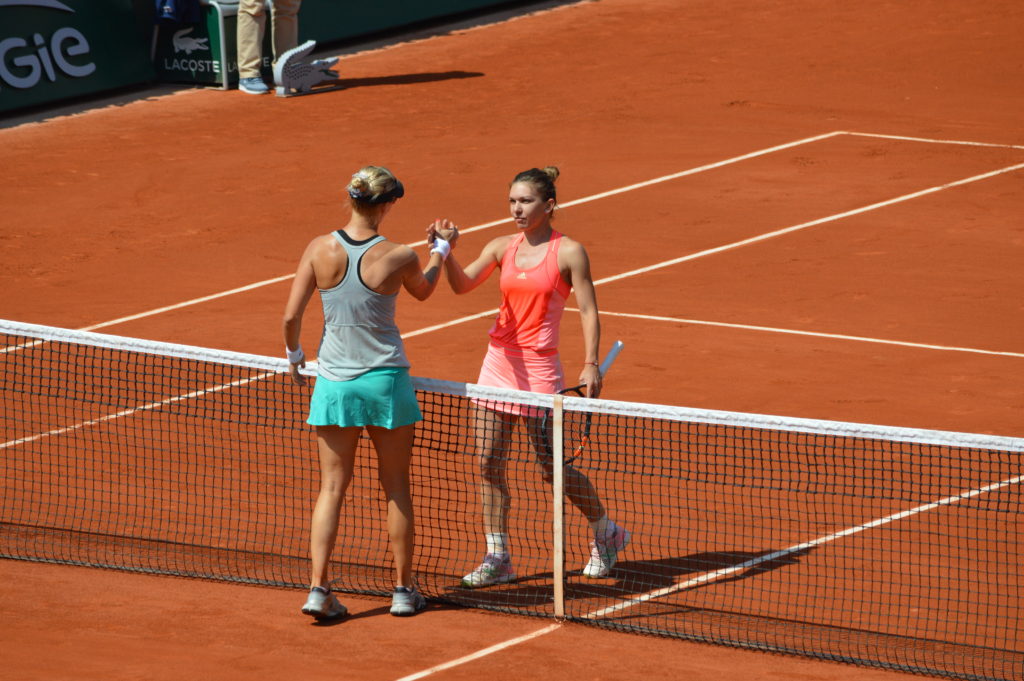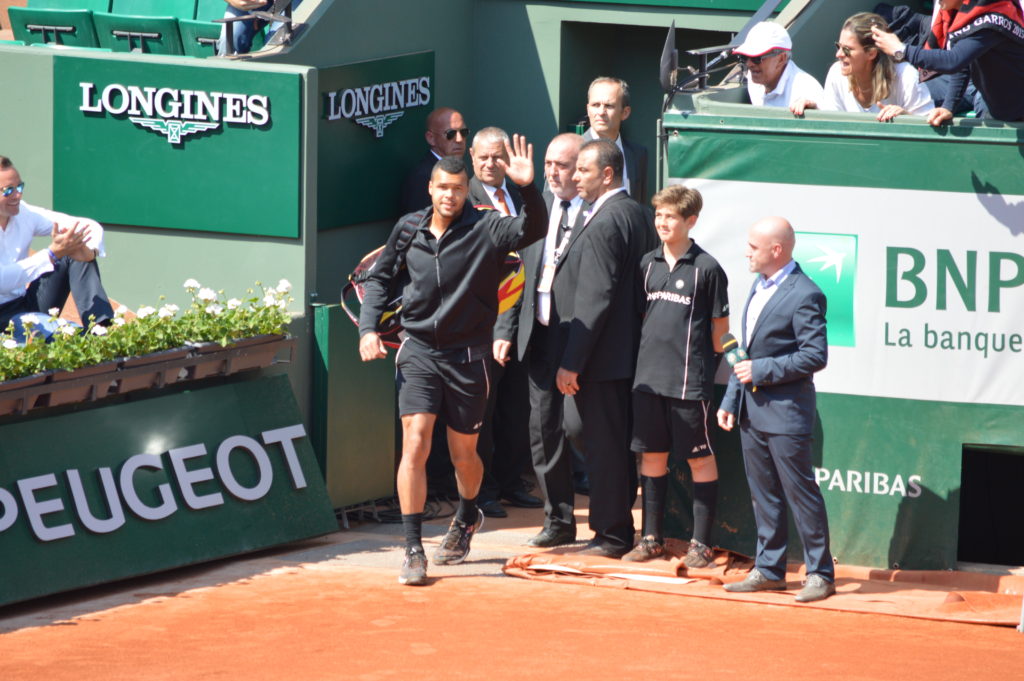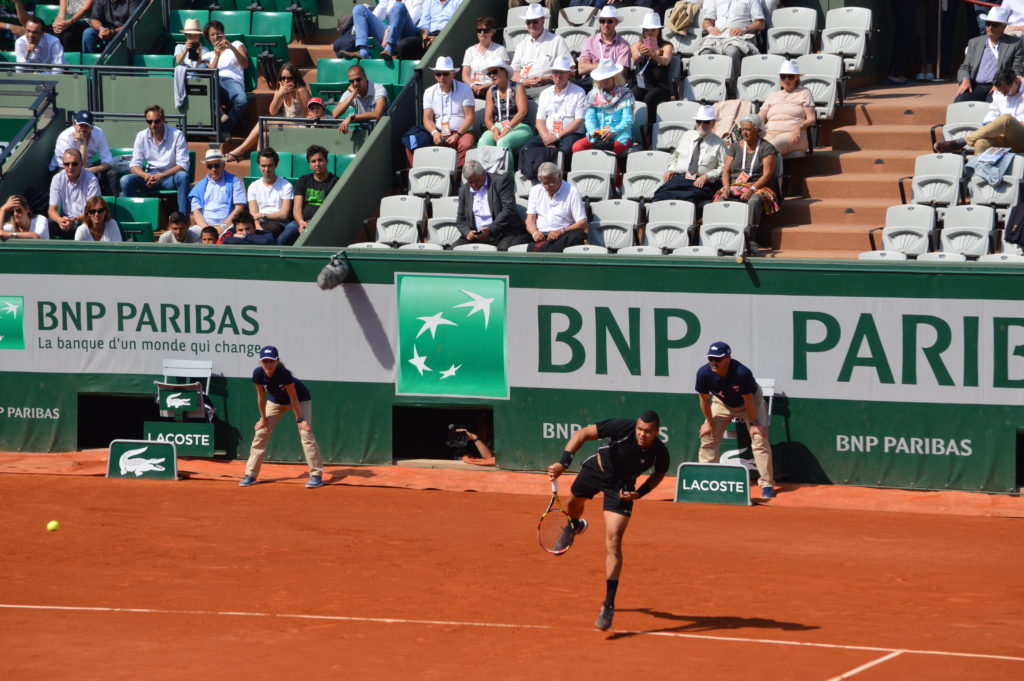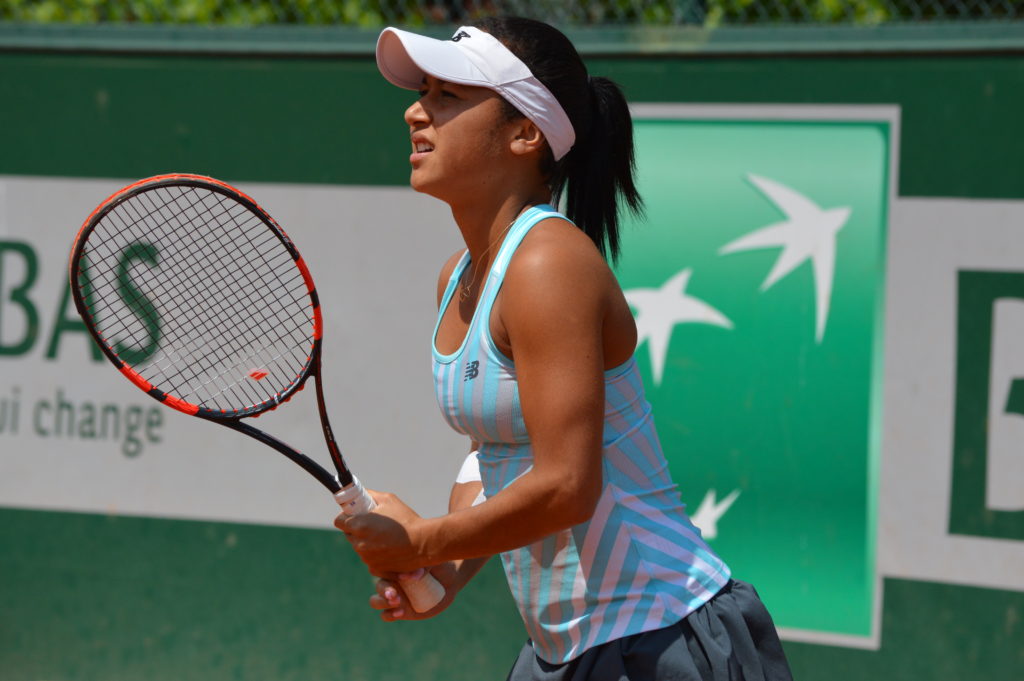 Day 2
On Suzanne Lenglen on the Thursday we watched:
Kvitova [4] v Soler-Espinosa

S. Williams [1] v Alfriedsam

Djokovic [1] v Muller

Gasquet [20] v Berlocq

A. Murray [3] v Sousa (on Philipe Chatrier!)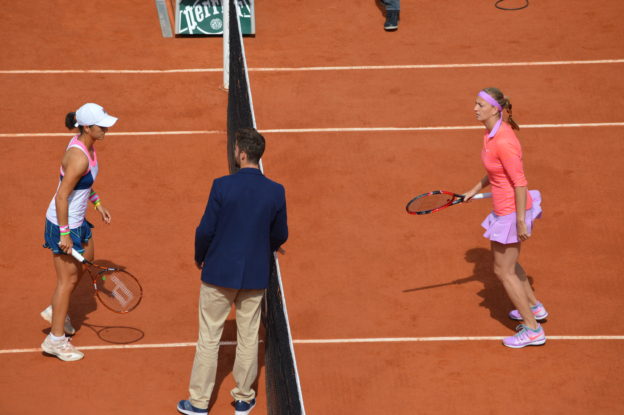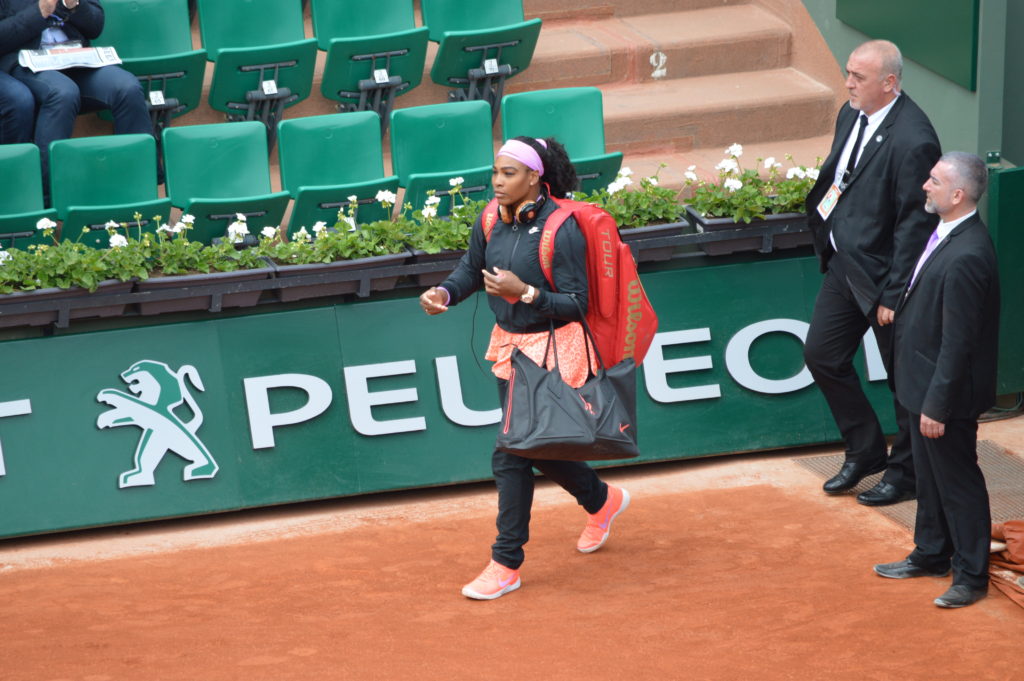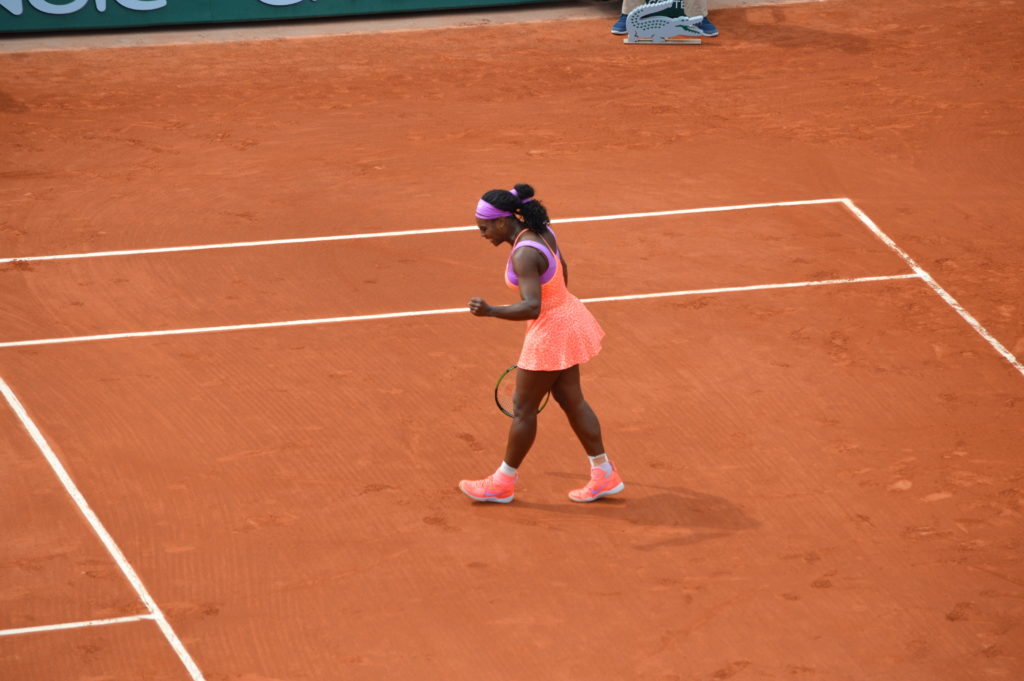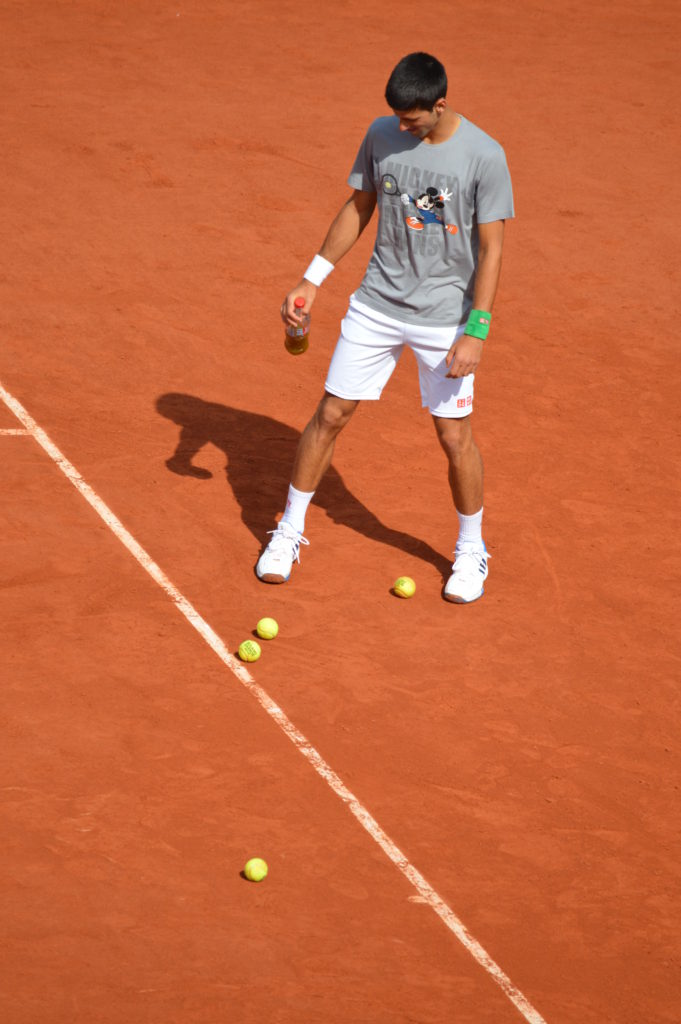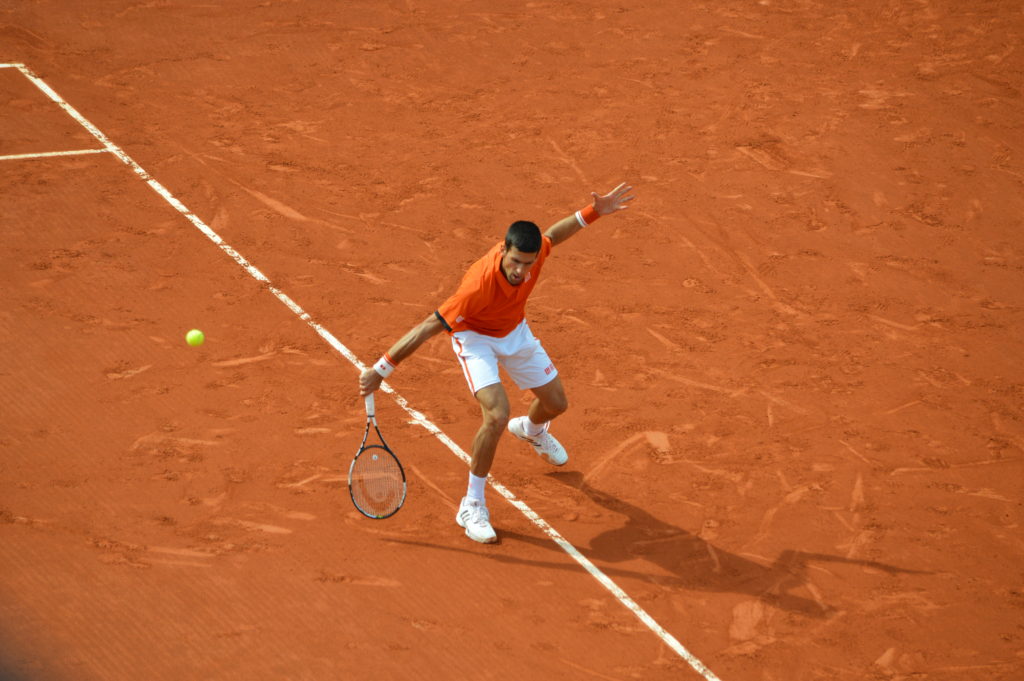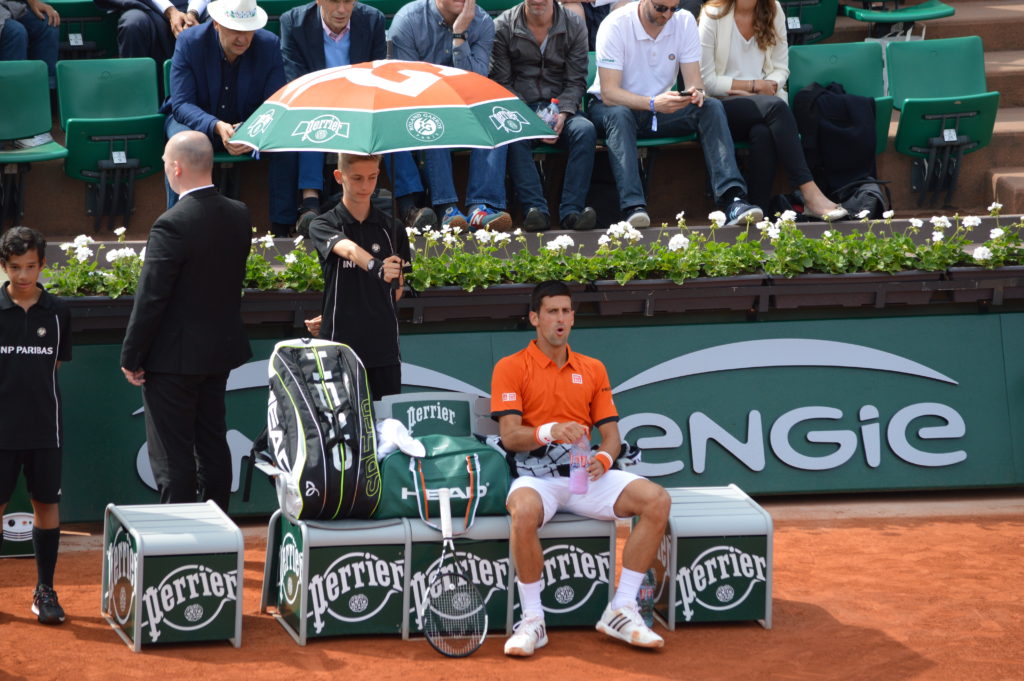 This was our first time seeing Serena Williams and she was beasting it! Djokovic also had a very straightforward win! Obviously we were pleased with our choice to buy Suzanne Lenglen tickets, being treated to both number 1 seeds (and Federer on Wednesday), but we were slightly gutted that Andy Murray had been put on Philippe Chatrier (must be to do with that Wimbledon win)! However, we felt we had a pretty strong bargaining tool with Gasquet playing last on our court, so we decided to hang around outside Philippe Chatrier and offer to swap our tickets (we targeted French people in the hope they would want to see the old French fav)! We didn't have that much luck despite leaving hoards of French people desperate for a ticket waiting outside Suzanne Lenglen, so we watched Murray for a bit on the big screen before going back for one last try. Luckily, Rob managed to find some people who were leaving and didn't even want to swap tickets! Their seats were amazing and it meant we were able to see most of both games (Murray and Gasquet).
Murray went on to win his quite quickly which we were pleased about!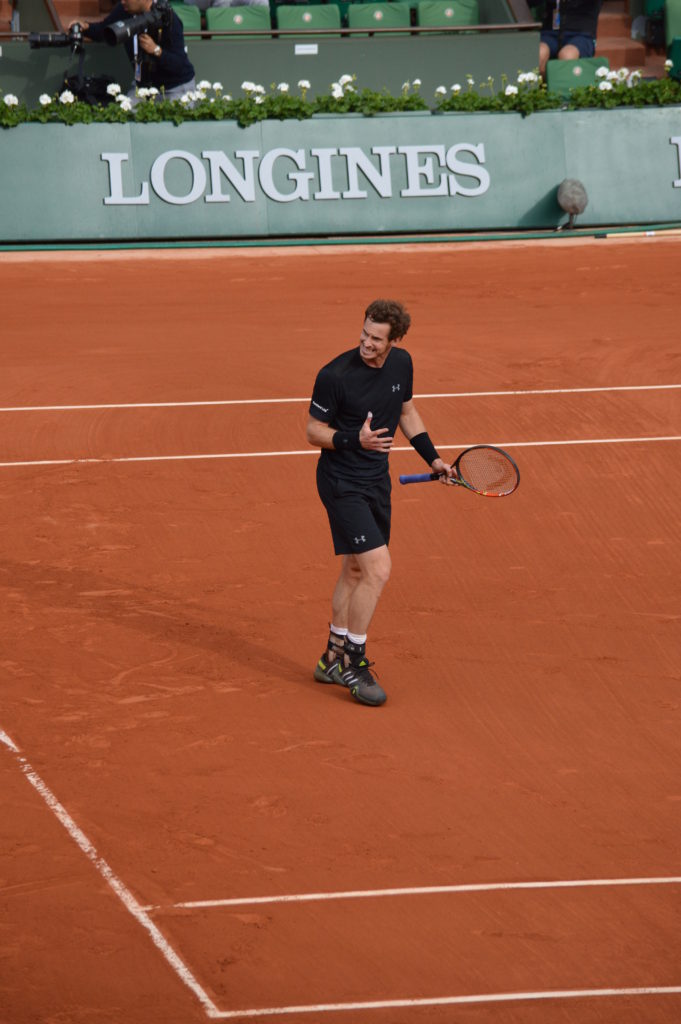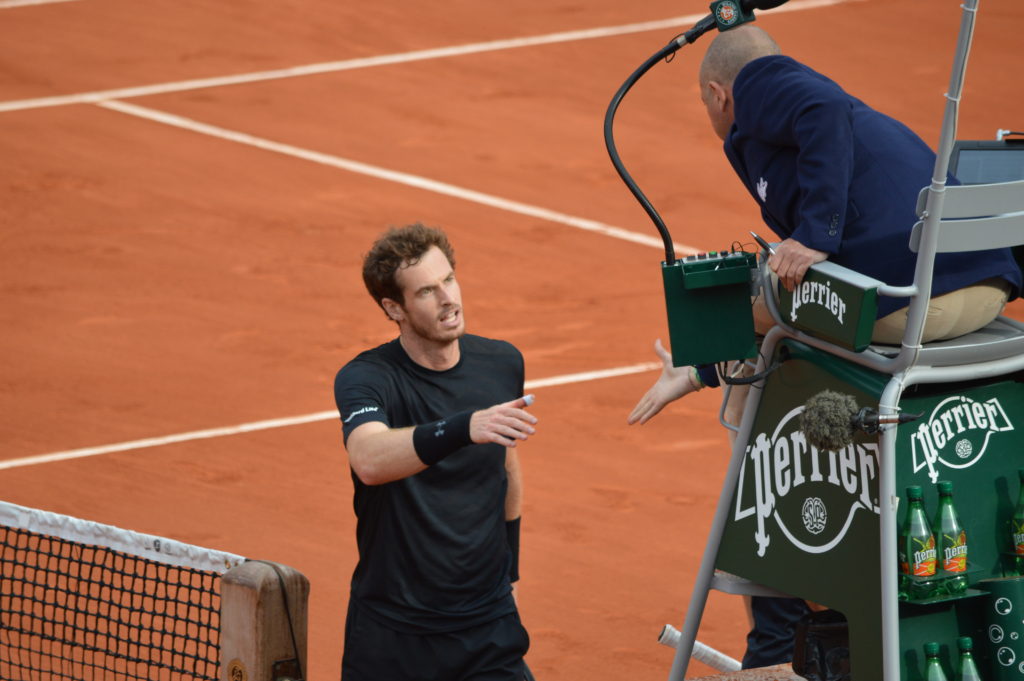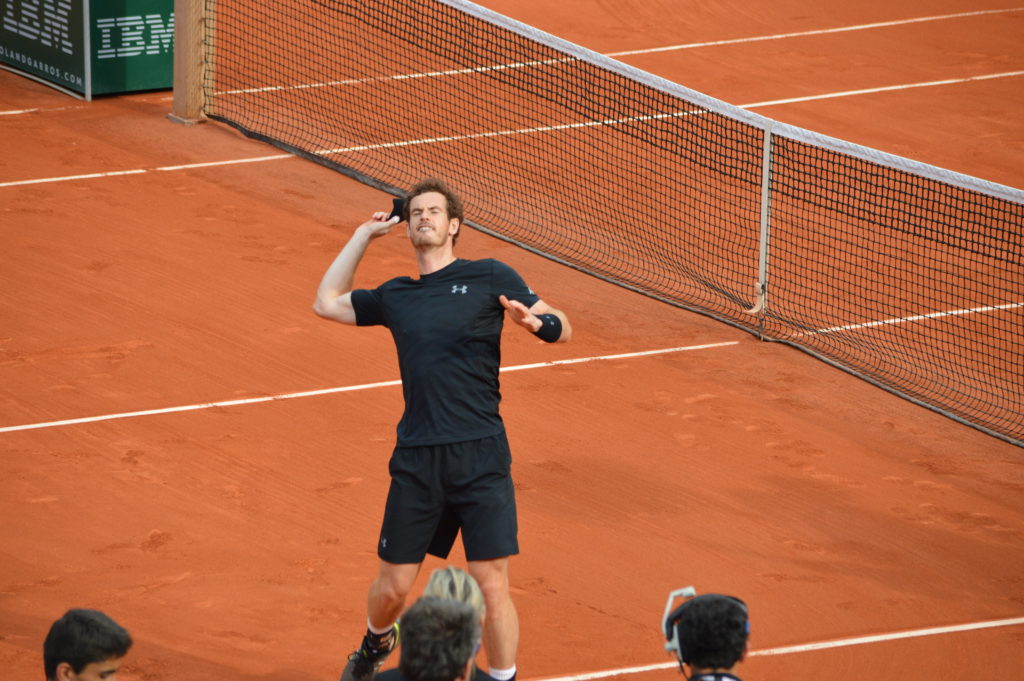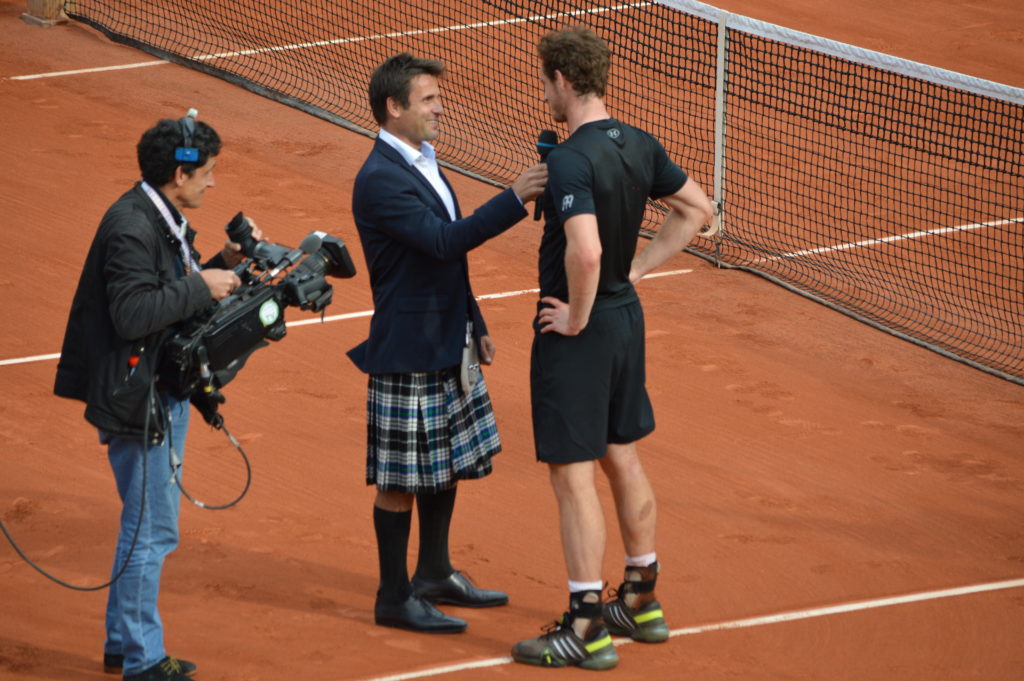 The Gasquet game was particularly exciting and the French were really behind him – definitely get the best atmosphere watching the local favourites!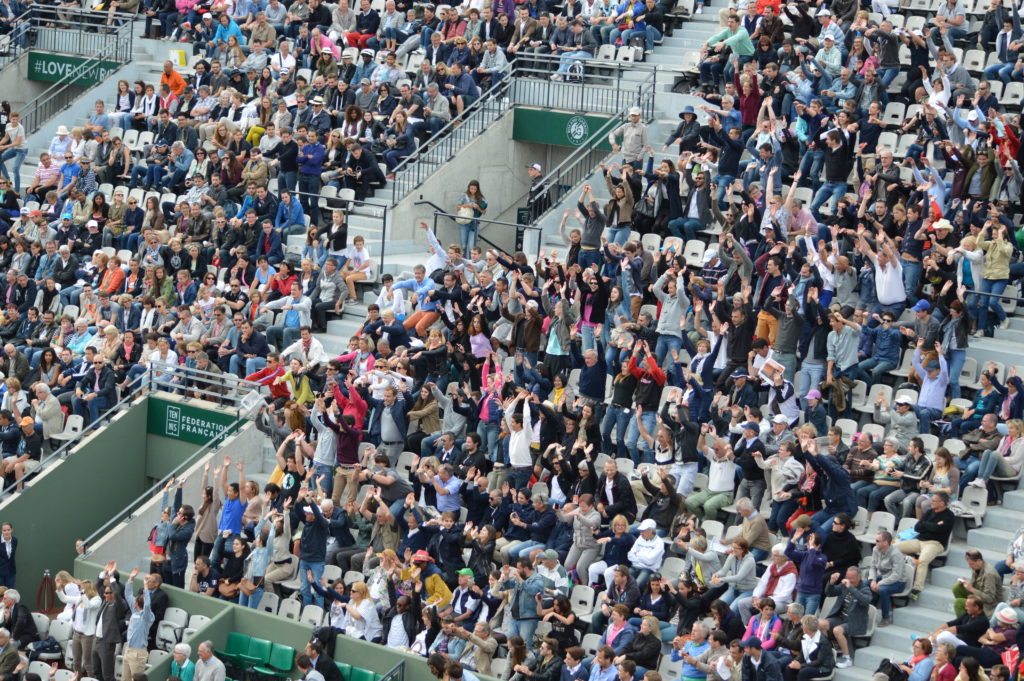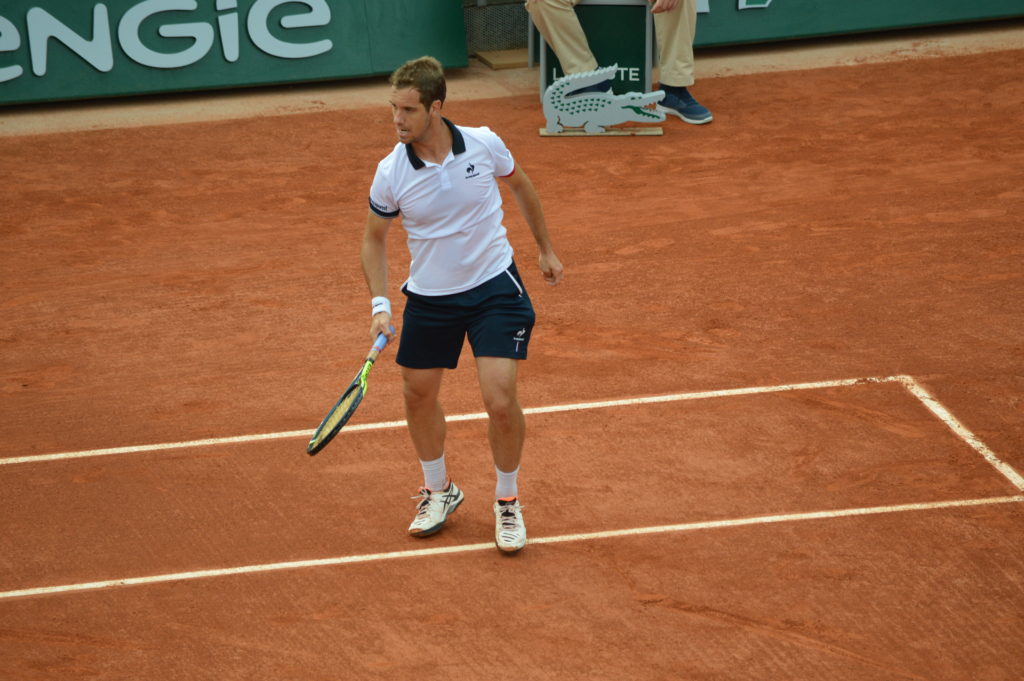 There are a couple of cameras that whizz across a zip wire above the court. As the evening drew in the pigeons started swooping down towards the court and into the stands… unfortunately one got caught in the camera!! It caused quite a commotion in the stands as feathers started raining down. The players didn't really know what was going on as the camera crew slowly tried to drag it back towards them. Luckily the pigeon got away eventually after a chorus of "pigeon, pigeon, pigeon" from the French fans!