New York is a city brimming with things to do and places to see. We were keen to make the most of our 5 days so started by labeling a few of our "must-sees" on a map. This helped us have a better idea of where everything was located and which places we should plan to visit on the same day. Naturally our plans did change slightly during the trip, but we still managed to see most the things we wanted to. We bought a 7 days  unlimited metro card for $31 and it was very helpful. Our itinerary ended up looking something like this:
DAY 1: Top of the rock, Staten island ferry, Brooklyn bridge, ice-skating in Bryant park
Although these were a bit spread out across the city, the weather was amazing so we wanted to make the most of it!
Top of the rock
We were slightly torn between going up the empire state building or heading to the oberservation tower at the top of the Rockefeller center. Most people we spoke to suggested that "The top of the rock" is a better option because you get a good view of the city including the iconic empire state building. We were not disappointed! The views over NYC were fantastic and we were pleased we had chosen to go on such a clear December day. This meant we could just about make out the statue of liberty! We loved seeing such a great view of the empire state building on one side, with central park on the other.
It is definitely worth pre-booking tickets as when we arrived at 9:45AM the ticket booth was highlighting there was a 3 hour wait! Like most things in New York, a visit up the rockefeller center isn't cheap and set us back $32 each! Our ticket had a 15 minute entrance slot and they wouldn't allow us access any earlier. However, once we were up on the observation deck we could've stayed for as long as we wanted. (The lift up to the top is also a pretty cool experience!)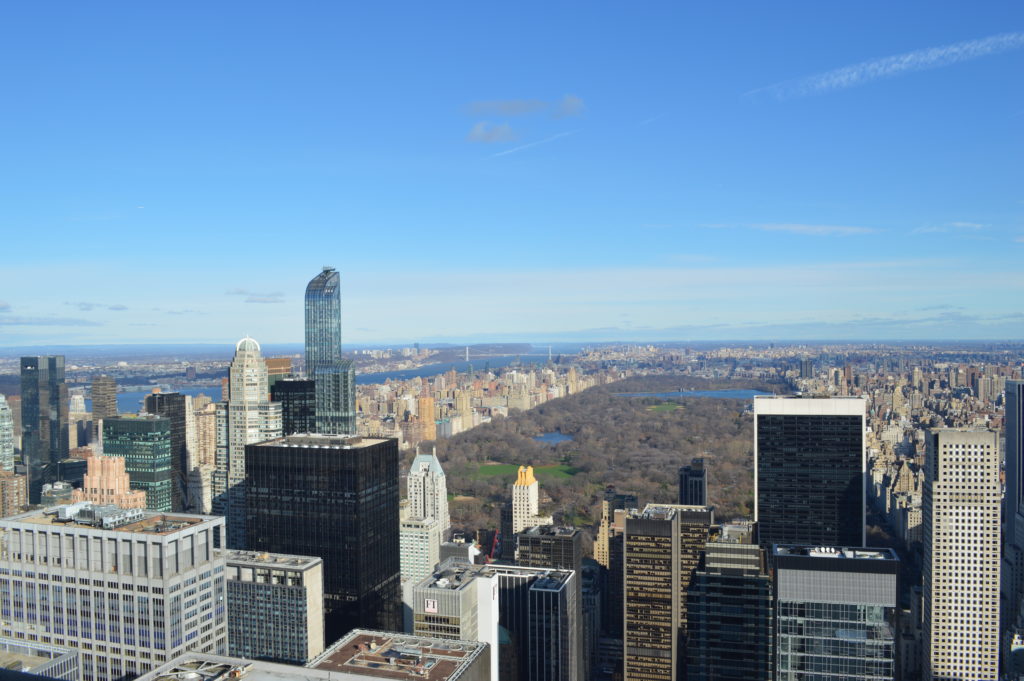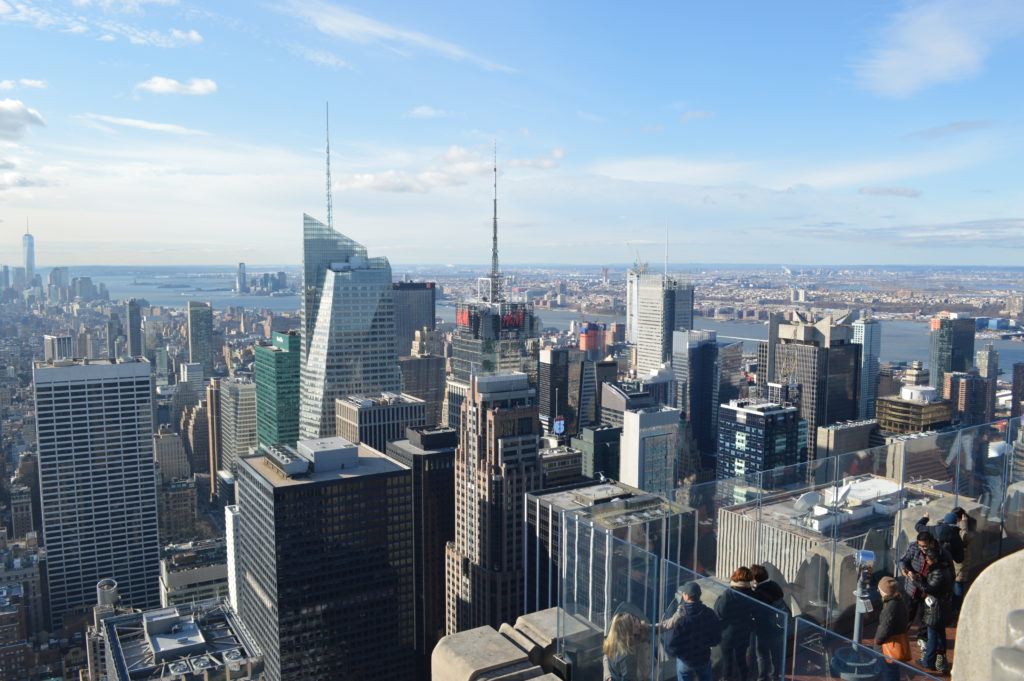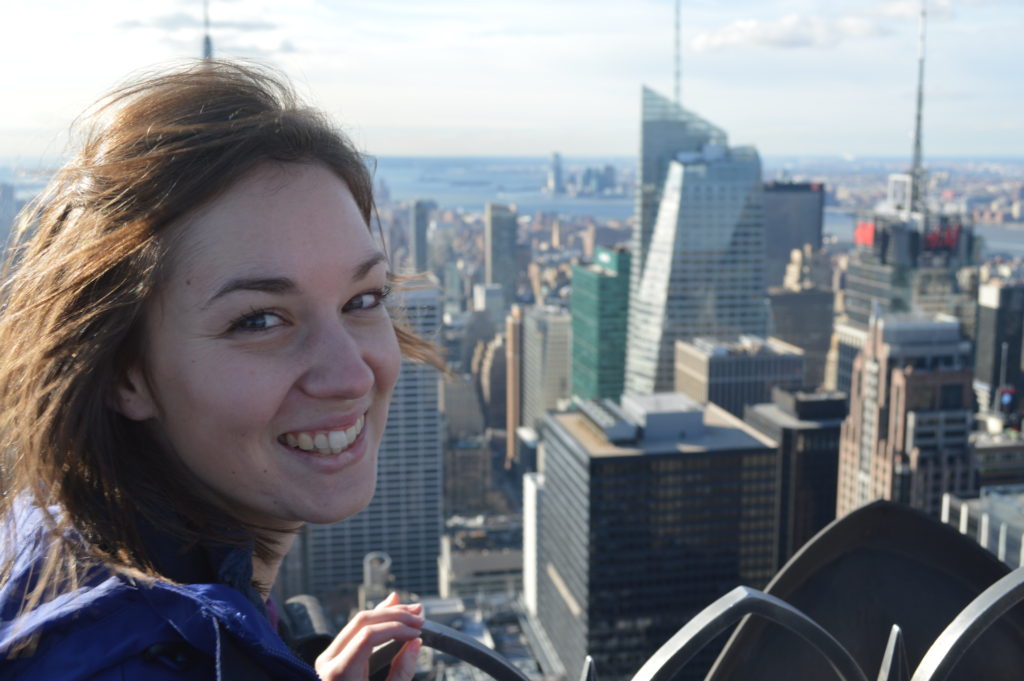 Staten island ferry
We chose to catch the Staten island ferry whilst the weather was so nice to see the statue of liberty. If we had gone to Ellis island we would've had a closer experience and I would like to do this if we go back to New York. The ferry terminals were SO busy but we didn't have to wait too long as the boats can take a lot of people across. The only annoying thing was that we couldn't just stay on the ferry to come back so we had to get off and queue again!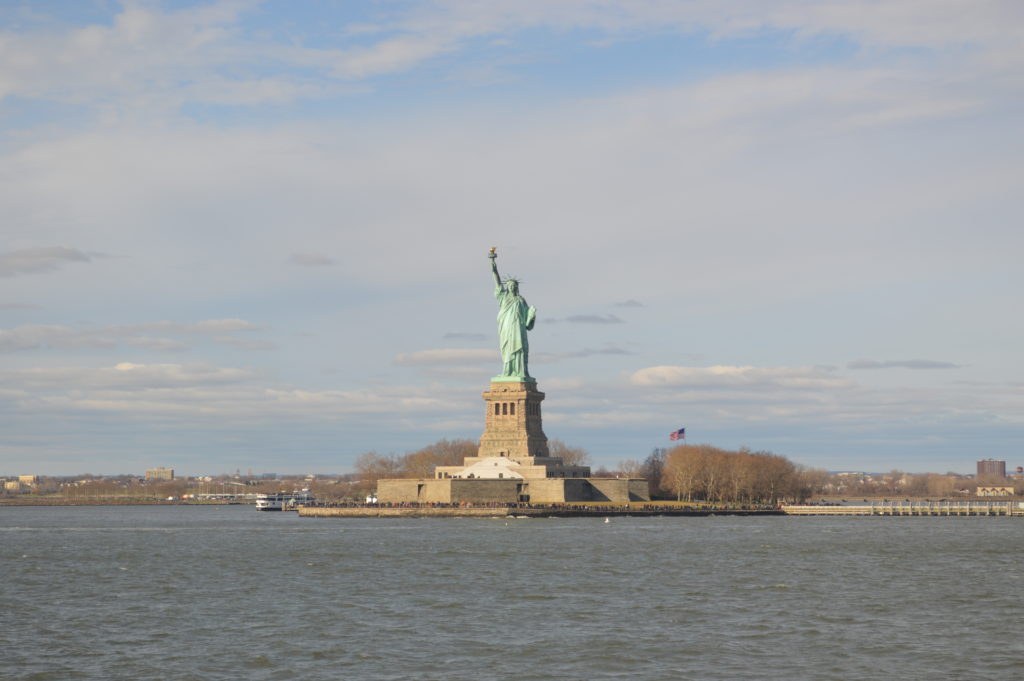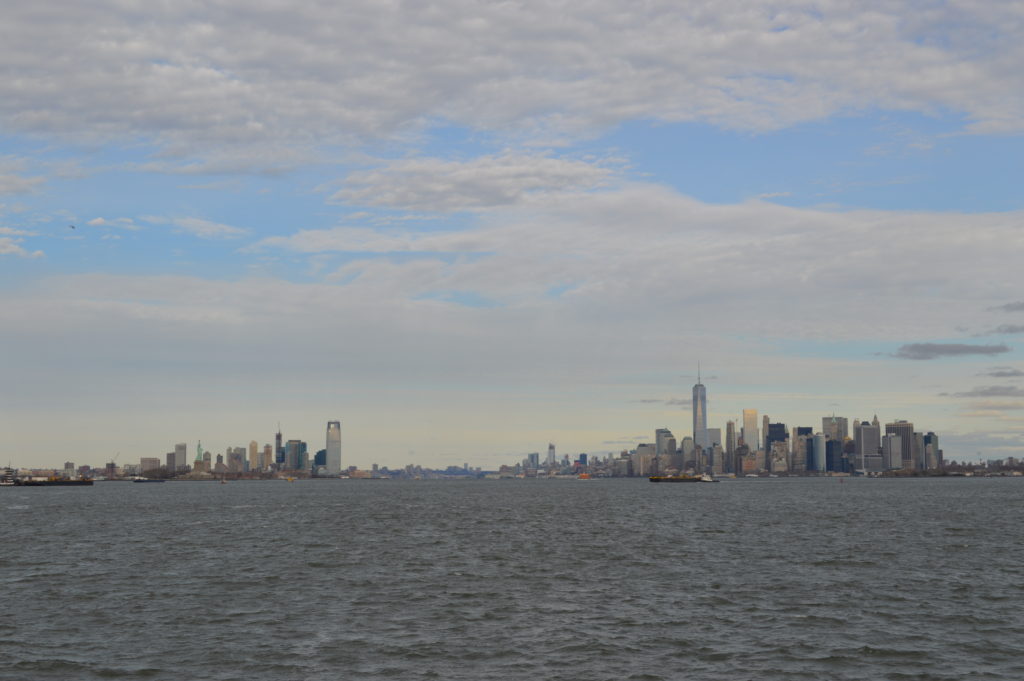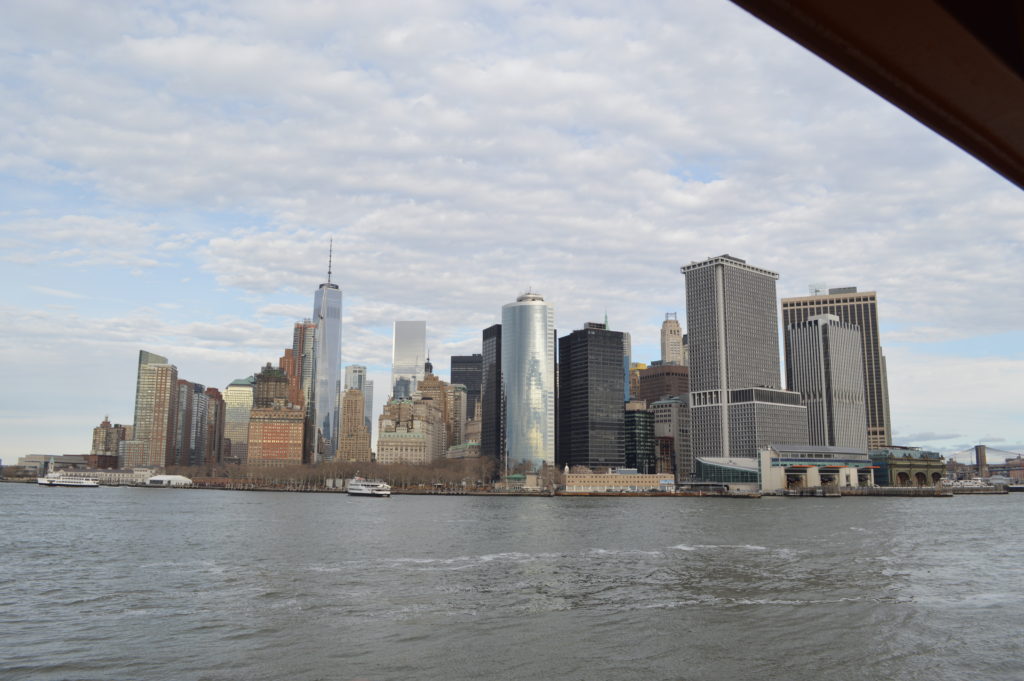 After the Staten island ferry we planned to walk across Brooklyn bridge, however standing outside on the ferry to take these photos meant we were absolutely freezing! Instead we went for some incredible pizza in Brooklyn. We went to Juliana's Pizza and even though we had to queue for 45 minutes in the cold to get in, the pizza was worth it! Lots of locals head here and it really is amazing.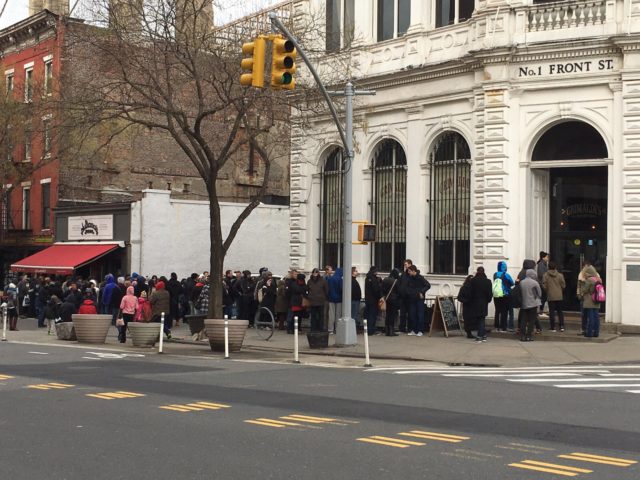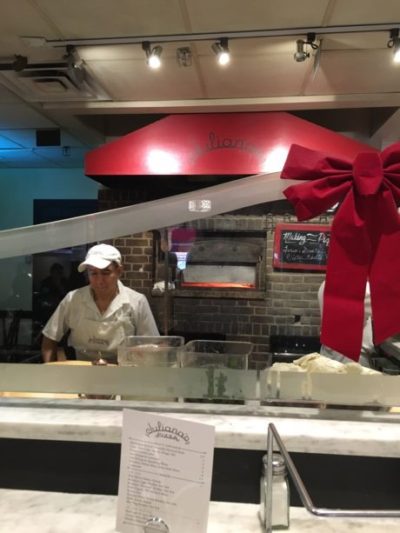 Ice-skating in New York at Christmas is a must but also very popular and expensive. We met up with my friends Jess and Rob in Bryant Park at around 6PM and the queue was HUGE. After waiting around for a few minutes and not really moving, we decided to pay for a fast pass $28 rather than $19. After we'd paid and were getting our boots on the lady said if it rains we'll have to get off the ice with no refund! Brilliant!! The ice was pretty churned up and it made the skating pretty sketchy but they did get us all off to resurface it.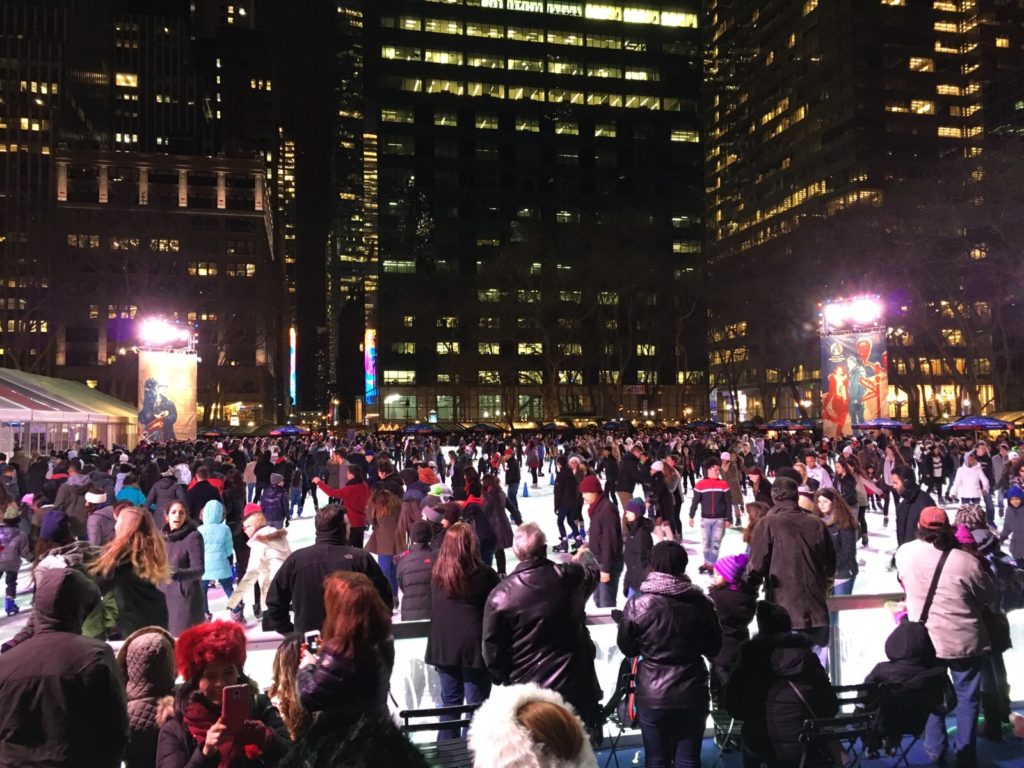 DAY 2: The day of
th
e
queues!
MoMa, Grand central station, TKTS booth, 9/11 memorial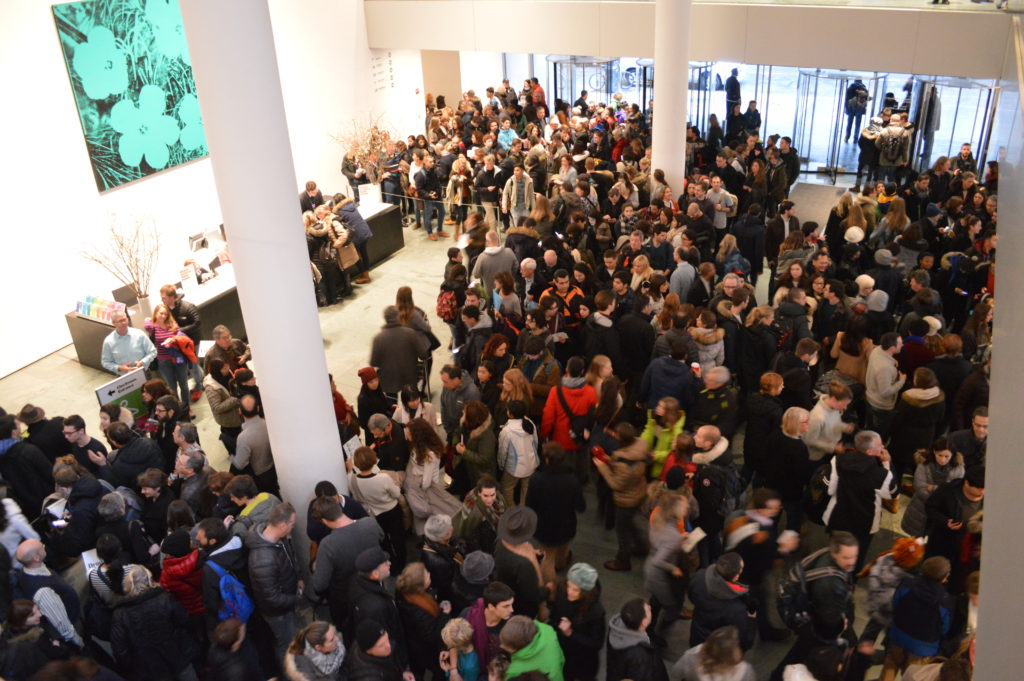 I have never had a day where I've spent so much time in a queue! It started at the museum of modern art (MoMA) just after opening. The crazy thing is that you can skip this chaos with pre-booked tickets, so we just bought them on our phone in the queue. Although we did still have to join a different queue to deposit our umbrella into the cloackroom!
Grand central station was very impressive and reminded me of gossip girl! The food station on the lower floor was massive and it felt like we were in Harrods. We had a shake shack there before heading back into the rain!
Before heading to New York we had looked at theatre tickets but found them all WAY too expensive. We had read online about the TKTS booth where tickets are released on the day. On Tuesdays they start the queue at 2PM (the internet had said 3PM so we were already on the back foot!). We queued for around 45 minutes to find both Aladdin and Matilda were sold out  and the other shows were now over $100 per ticket! However, Today TIX is a great app so think we will be using this to try and get cheaper tickets in future.
9/11 memorial
We had read that the 9/11 museum is free to enter after 4PM on Tuesdays. When we arrived it was crazy to see where the towers had been. It felt surreal being in a museum where the events have happened within my lifetime.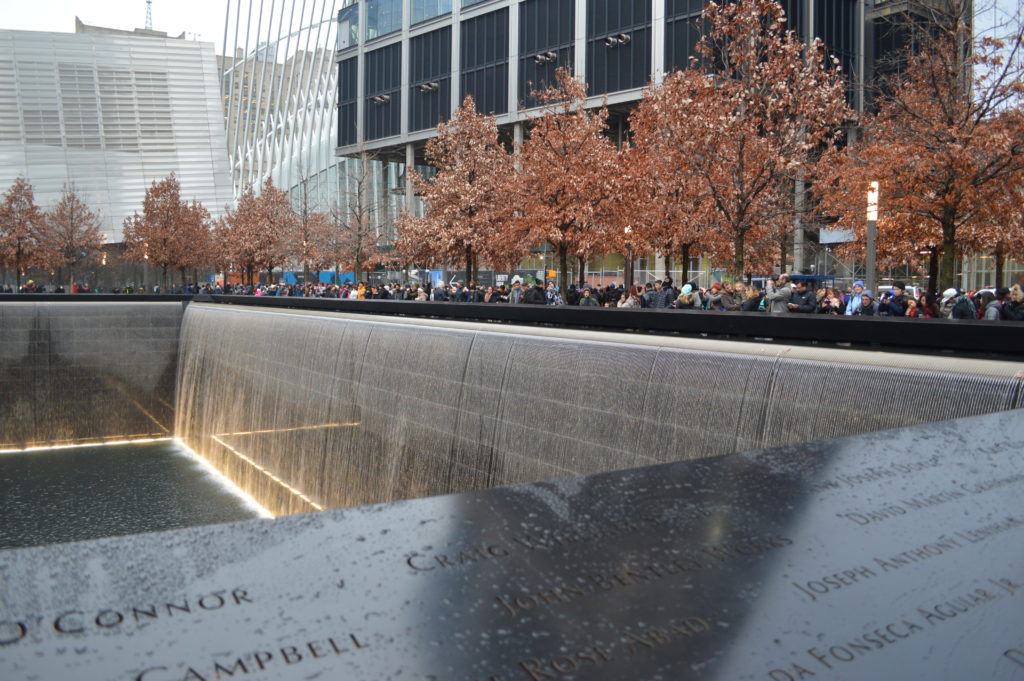 I wouldn't recommend going for the free entry time as it just meant we had to queue for ages. We joined the queue at 3:45PM and the didn't even release the tickets til 5PM. The give out 1,200 so I'm sure we would've still gotten in had we come later.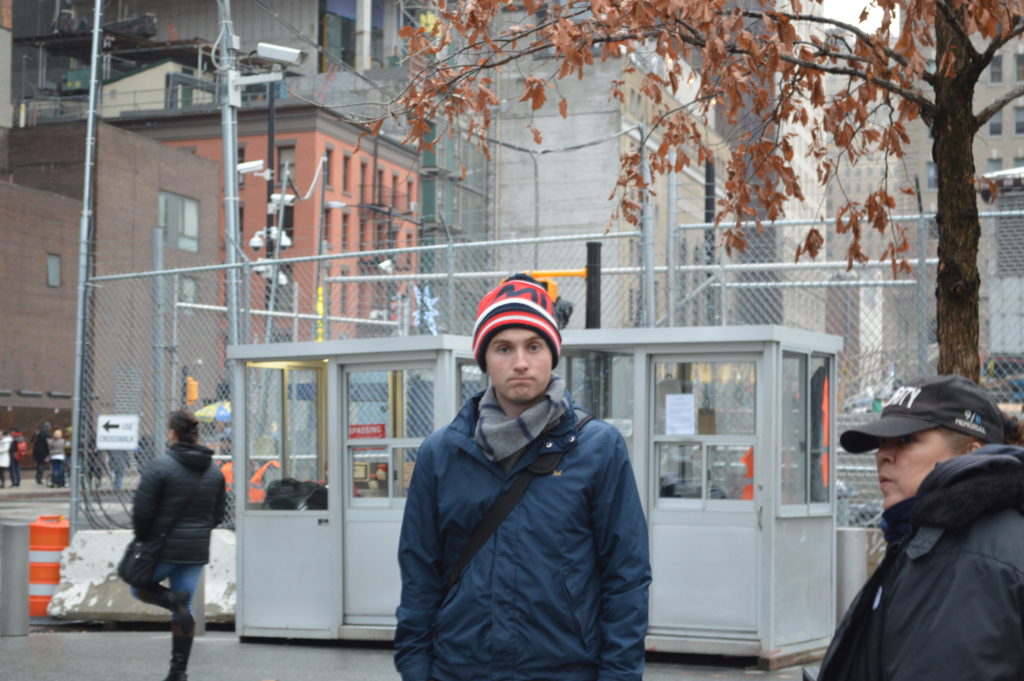 DAY 3: Shopping -Woodbury common, 5th avenue
We took one day out of our New York trip to visit Woodbury common outlet. We had booked our coach ticket on the American groupon site (making the 1hr journey $25 rather than $40). We left the city at 8:15AM and had to decide on a time to come back. Rob chose 3PM… we didn't have enough time! The place is MASSIVE!!!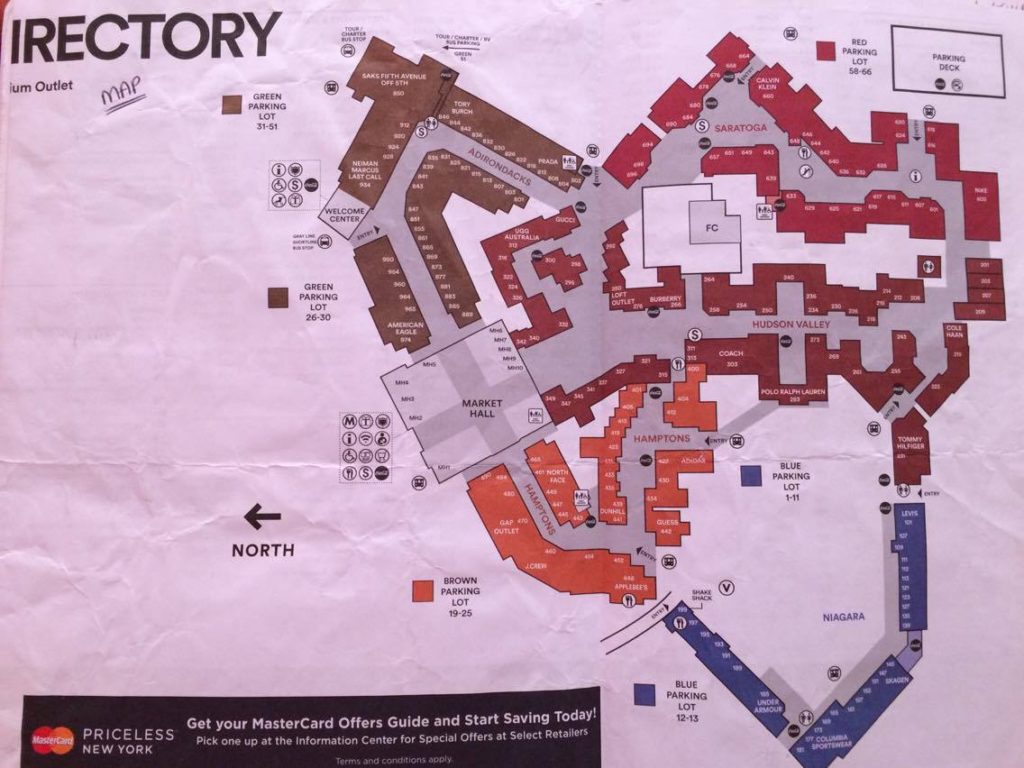 In the afternoon we wandered along 5th avenue to get all the shopping out the way! Everyone seems to eat early in New York, so at 6PM we went to a lovely French steak restaurant for dinner; Le Relais de Venise L'entrecote.
DAY 4: Seeing the sights
Meatpacking district, the highline, central park, levain bakery, Humbolt and Jackson for NYE
The meatpacking district is a very cool area, we loved wandering around the Chelsea food market and walking along the highline.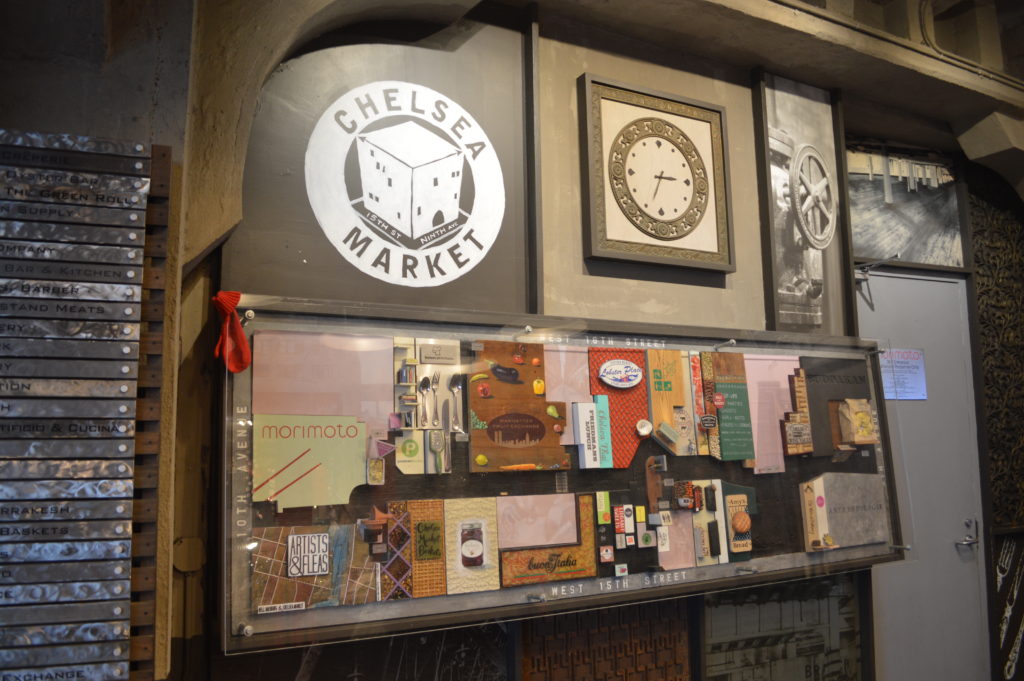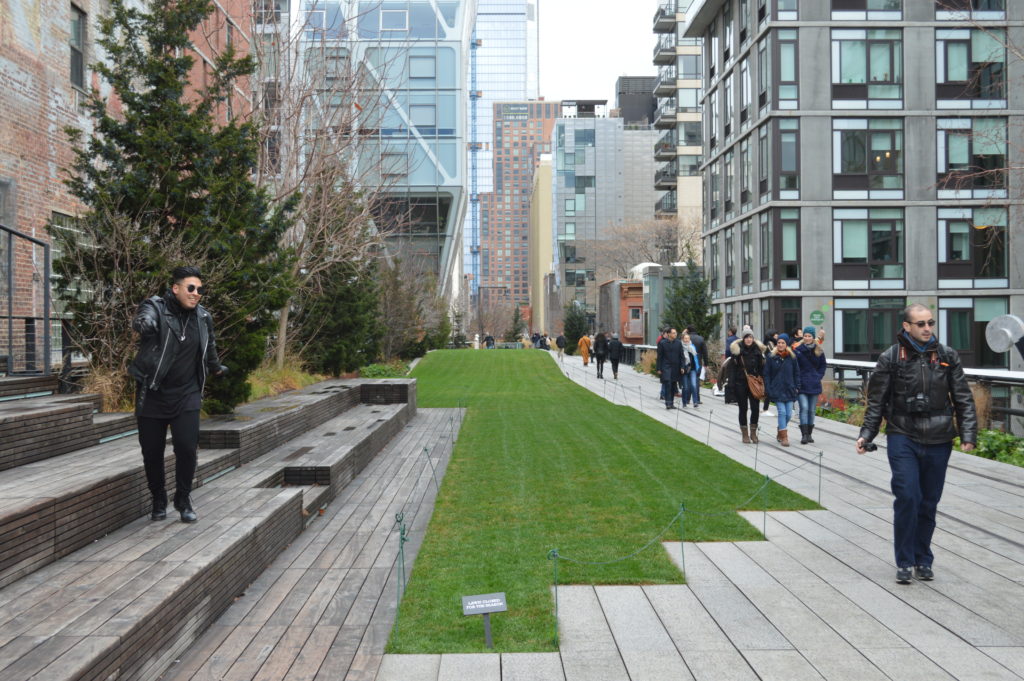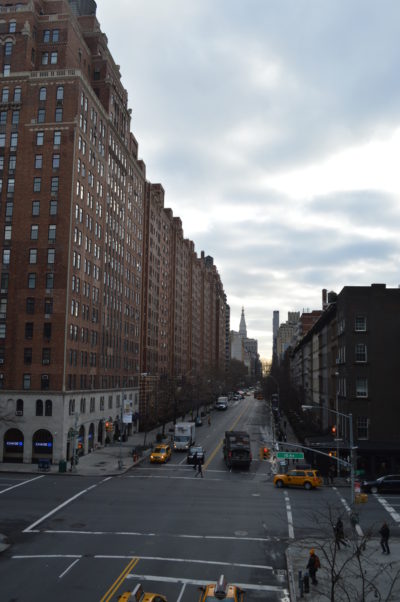 In the afternoon, we went to Central park, via Levain bakery. I can't believe we actually queued just to buy cookies but they really are the best thing I've ever tasted (and good job since they were $4 each!) There is definitely a reason this place is #2 out of 11,110 places to eat in New York!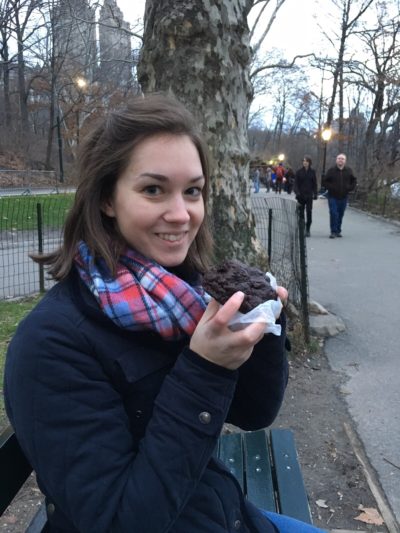 Being in New York around Christmas time has a magical feel to it. We considered standing in Times square on New Years Eve to watch the ball drop… but the idea of not being able to go to the toilet for hours put me off! We went to a bar in Brooklyn called Humbolt and Jackson for a local New Years celebration. After all, we had seen a lot of the Times Square hustle and bustle during our stay as we were in a hotel just around the corner.
DAY 5: New Years day = Clinton street baking company, China town, little Italy, shopping at century 21
On New Years day we decided to go for brunch at the Clinton street baking company. We got there around 10:30AM and was told there would be a 60-75 minute wait, so we went off to build up our appetites!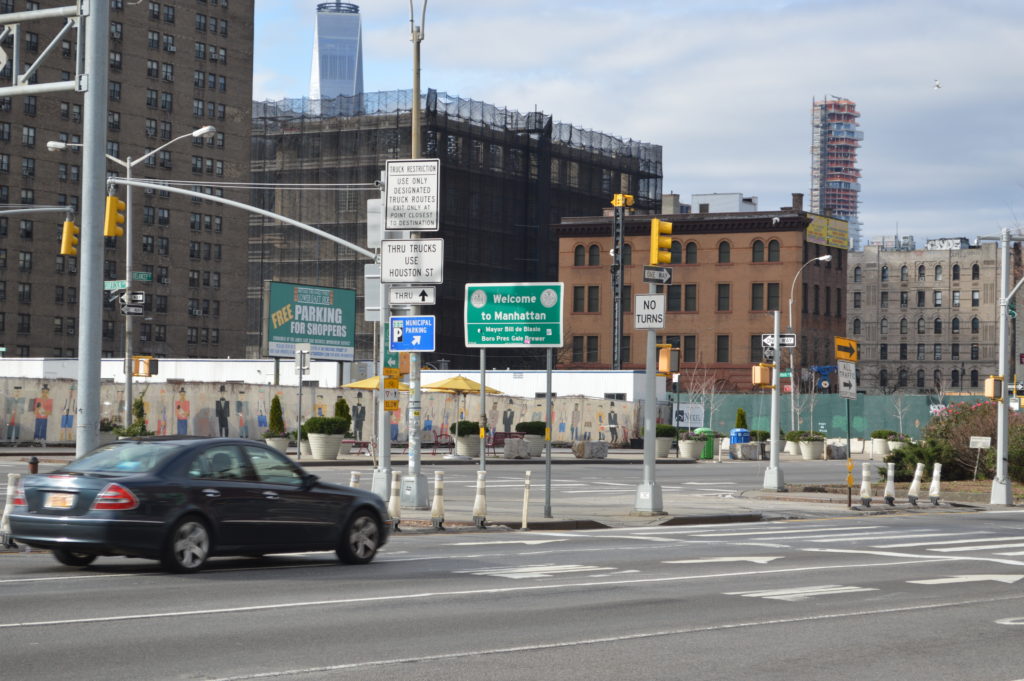 There wasn't an awful lot to see nearby, so we caught the metro to Little Italy and China town. Very cool areas!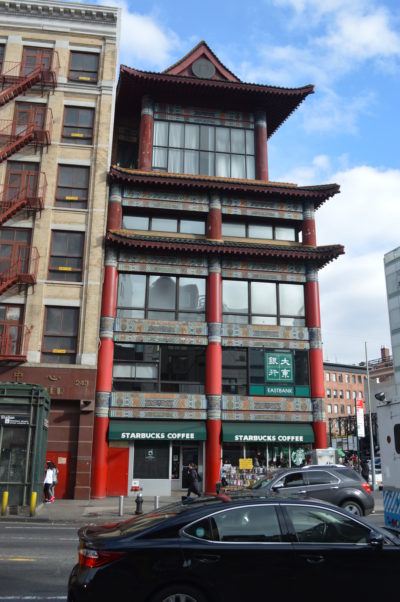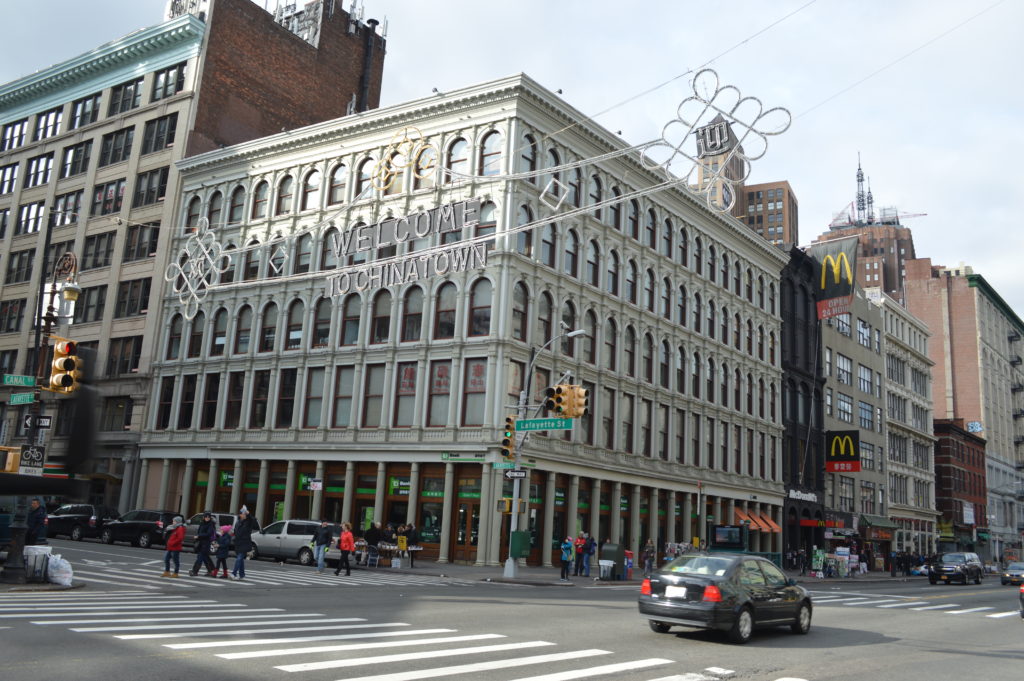 We enjoyed our brunch of chocolate pancakes at the Clinton Street baking company and then headed for one last shop before heading back to the UK. We went to Century 21 (near the 9/11 memorial). It was a bit like a big TK Maxx and very popular with the locals.